There are many blessings that can be chanted during the puja. These blessings are called upon from various deities in the Hindu religion; powerful gods and goddesses who bestow blessings upon their devotees. So let's take a look at one of the most popular blessings called Chamunda Mantra.
A Free Printable Puja Guide to help you chant Chamunda Mantra
I'm so proud of this puja guide, so I couldn't be more excited to share it with you today!
As you may know by now, I like to write long and helpful posts for my readers. Sometimes, however, I get an idea to do something more, something even more useful.
That's why I decided to prepare something that people could have in hand while reciting mantras. Something printable, easy to read, and that could act as a puja guide.
That's how these guides were born.
Each guide has a big picture of a divinity that you need to devote to, a mantra, and a how-to guide to help you prepare yourself for reciting. It's in A4 format, and all you need to do is to print it.
This Chamunda Mantra puja guide is completely free; all you need to do is to enter your email in the box below to unlock it.
[emaillocker]
Just click on one or all of the links below and the free PDF file will download immediately!
Chamunda Mantra Puja Guide – Click Here to Get It
[/emaillocker]
What is Chamunda Mantra?
Chamunda Mantra is the mantra of Chamunda Devi and with its blessings, practitioners can enjoy an improvement to all aspects of their life. It is not a mantra to bestow a single benefit, but rather to enhance the overall quality of life.
It is known by various names such as Navakshari Mantra or Navarna Mantra or Chandi Mantra. Chamunda Mantra is significant as it is considered as a Maha Mantra.
Navarna Mantra is the central mantra in the recital of Sri Durga Saptashati. The reason is because there is a recitation of Durga Saptashati as a component of Navarna Purashcharana. Therefore, we believe that there is a mutual relation between Navarna and Saptashati.
Apart from Sri Vidya's Shodasi Mantra, this mantra also forms a crucial part in the worship of Shakthi.
It is the mantra of the Goddess Devi, who is the wrathful form of Durga, the mother goddess. While Chamunda Devi is a wrathful figure, she is kind to her true devotees. Instead, her wrath was brought upon demons that would harm the pious and devoted, protecting good from evil.
Through the protection of the goddess, all things will become possible for the devotee.
The Chamunda Mantra is typically given as follows:
"Om Aim Hreem Kleem Chamundaye Viche".
We'll go into specifics later, but the mantra combines the three feminine forces of the universe to call upon the goddess to bless and protect her followers. It bestows health, wealth and prosperity to practitioners. In a world of increasing negative, stress, and uncertainty, these blessings and protections are becoming more invaluable to the everyday lives of people.
The nine syllables of the Navarna Mantra have a close relationship with the Mahashodasi mantra which comprises of twenty-eight syllables. The nine syllables mean worshipping in nine levels which represents the nine forms of the Devi.
The syllables of Navarna Mantra are an extraction from the initial line of Mahashodasi, namely – SRIM HREEM KLEEM AIM SAUH. There is an utmost faith amongst the Shakthas that Navarna Mantra contains the power for liberation.
We are also of the belief that the Navarna Mantra is a profound dedication to the Goddess Chamunda because the power that is manifest in the mantra is a specific attribution to the recitation of the mantra CHAMUNDAYE.
Thus, by chanting this mantra with compassion and enthusiasm, we invoke the powers of the Supreme Goddess and the three Goddesses to seek protection and attain liberation.
Let's explore this powerful blessing in depth; its origins, the deity it calls to, and the miraculous benefits it can bestow upon its users. Through greater understanding and appreciation of the mantra and its goddess, we can benefit more thoroughly from its use.
Who exactly is The Mother of Hindu Universe?
To understand the Chamunda Mantra, you must first understand who it is you call upon.
In Hinduism, the major gods and goddesses possess many incarnations which perform different roles and functions. The goddess Durga is no different. She is also known as Shakti or Devi, and is the mother of the Hindu universe.
The name in Sanskrit means fort, or a place that is difficult to overrun. This is perfect for Durga's protective and sometimes militant nature. One of her many names is Durgatinashi, or "the one who eliminates suffering."
Chamunda Devi, as mentioned above, is the wrathful incarnation of Durga. The name comes from combining the names of two demons, Chanda and Munda, who were destroyed by Durga.
Durga is portrayed as many-armed goddess, with anywhere between 8 and 18 arms. Each arm holds a symbolic item or weapon, with which she fights demons and evil forces.
Durga is known as Shakti and Devi. Durga also refers to many avatars such as Rajeswari, Kali, Java, Bhagvati, Kandalini, Bhavani, Gauri, Ambika, and Lalita.
Durga also has nine forms out of which she can appear in anyone, namely – Siddhidatri, Skondamata, Chandraghanta, Kusumanda, Katyayani, Shailaputri, Maha Gauri, Kaalratri, and Brahmacharini.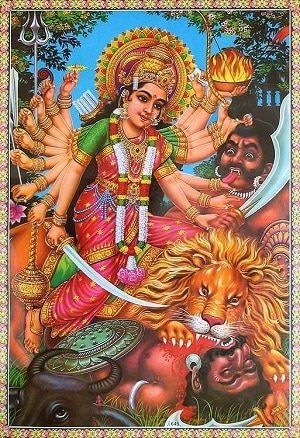 Some of these weapons and items include:
Conch shell, symbolizing Pranava or the universal Om; symbolizing Durga holding onto God through sound.
Bow and arrows, representing energy. Holding the bow and arrows in a single hand shows the combination of potential and kinetic energy joined as one.
Thunderbolt, symbolizing firmness. Durga reminds us to attack challenges with firmness and conviction, much like a powerful thunderbolt destroying its target.
Lotus; in Durga's hand, it is not yet fully in bloom. This shows us the certainty of success, but not the finality. We must remain true to our spiritual quest and not get bogged down in the mud of lust and greed.
Beautiful discus, or Sudarshan-Chakra, represents the world literally wrapped around her finger. It shows the world is subservient to Durga's whims and desires, yet at the same time it is a powerful weapon with which she destroys evil and promotes righteousness and growth.
Sword, representing knowledge. Knowledge has the sharpness of a blade, cutting through the uncertainties of the world.
Trident, symbolizing three qualities; inactivity, activity, and nonactivity.
When chanting this mantra, you are calling upon this multi-armed, protective force to liberate you from evil forces and bring prosperity to your life.
How to Chant Chamunda Mantra?
By using a rosary of lotus seed, rudraksh or crystal, we can chant Chamunda Mantra "OM AIM HREEM KLEEM CHAMUNDAYE VICHAY" during the first day of Ashtmi or Navratri.
Let us break this down a little. So the Chamunda Mantra in English translates to:
Om, the universal sound
Aim, the bija or seed mantra of Maha Saraswati
Hrim, the bija of Maha Lakshmi
Klim, the bija of Maha Kali
Chamunda, the divine mother in wrathful form
Vichay, something like a shield or protection
Combined, the mantra combines the three feminine forces of the universe with the divine mother to shield practitioners from evil and negative forces. As you can see, it contains three bija or seed mantras, which are powerful on their own, but incredible when combined with such a chant as this.
We can chant Chamunda Mantra for one hundred eight times during the morning and evening session by daily keeping pace with the mantra sandhana. We can also chant the mantra on any given day beginning from morning till the evening.
Before we begin to chant Chamunda Mantra, there are certain fundamental rules that we ought to follow for a successful chant –
Before we commence chanting, we should either take a bath or wash our feet and hands.
We should always sit in a position that faces the North or East direction when chanting.
We should entirely devote ourselves to the great Goddess Chamunda and embrace the positive energy and love of the Universe.
We should devote ourselves to reciting the mantras for at least forty-eight days.
If we want to get blessings, we should unflinchingly chant the mantra every day.
We can keep a portrait of Goddess Chamunda in front of us and adorn the portrait with red colored flowers as red is representative of her.
The most auspicious day and moment to start chanting Chamunda (Navarna) Mantra are during the inaugural day of any Ashtmi or Navratri, i.e., the eight day after the no moon day.
We should chant the mantra in and during the same place and time when the mantra sandhan is on its due course.
Every day, we should also chant the mantras 9, 27, 54, 108 or 1,008 times using the beads of the rosary of Lotus Seed, Rudraksh or Crystal.
We believe that Goddess Durga combines herself with the powers of the three Goddesses, namely – Mahasaraswati representing 'AIM', Mahalakshmi representing 'HREEM', and Mahakali representing 'KLEEM'.
Chamunda Mantra Explained Word for Word
OM
This is the Pranava mantra which represents the unique God Nirguna Brahman.
AIM
This mantra represents Goddess Mahasaraswati's Beej Mantra.
Creation and knowledge – both divine and worldly, is attributed to Goddess Mahasaraswati.
More specifically, the letter A represents the creation, the letter I is the body that caused it, and the letter represents perfection. Thus, the seed of wisdom lies in AIM.
This mantra is the 'Chit'.
HREEM
This mantra refers to Goddess Mahalakshmi's Beej Mantra.
Goddess Mahalakshmi is associated with fame, wealth, luck, and everything related to the material world which the senses can perceive and the mind can conceive.
This mantra is the 'Sat'.
KLEEM
Goddess Mahakali, who wields death and power in her hand, represents the Kleem Mantra.
More specifically, KA, LA, I, and M comprise to form KLEEM. KA represents the cause, LA represents the complete body whose existence is manifest, I represents the body that causes, and M refers to perfection.
Therefore, KLEEM is a result of the pure unification of the complete entity that transforms into the causal body.
This mantra is the 'Ananda'.
CHAMUNDAYE
This mantra refers to Goddess Chamunda and represents anger and passion.
Goddess Chamunda is the goddess who passionately protects the life of the chanter.
CHA also means movement, and MUNDA means the head. Paradigm. So, CHAMUNDA also refers to the one who moves in the head which is symbolic of the idea of reality which we know and observe.
YE means the one who grants blessings.
VICHAY
This mantra represents a consciousness that is pure divine.
By chanting this mantra, we believe that we can attain deep consciousness and knowledge.
This mantra also means liberation, and can also be understood as a synonym of the Sanskrit word MOCHAYATI which means to cause it to liberate.
Thus, when the term VICHAY merges with the Goddess Chamunda, it beautifully exemplifies that Chamunda is the splendid and magnificent Goddess who is the source of liberation for her devotees.
The Chit (being), Sat (consciousness), and Ananda (bliss) in AIM, HREEM, and KLEEM respectively plays a vital part in the creation of mental and physical aspects. They ultimately combine with Chamunda Devi.
Chamunda or Navarna Mantra Translation in English
Chamunda or Navarna Mantra is said to have the following meaning:
'O Supreme Soul Mahasaraswati, O perfect and most auspicious Mahalakshmi, O epitome of joy Mahakali, to attain supreme knowledge we fervently meditate upon you. O Goddess Chamunda who personifies the forms of Mahasaraswati-Mahalakshmi-Mahakali, we come before you with much deference! Please deliver us from this state of oblivion and emancipate us.'
7 Miraculous Chamunda Mantra Benefits
Probably the most important benefit of chanting Chamunda Mantra is protection from negative forces. The other ones are improved health, mental and physical strength, a boost of your professional career, and improved relationships.
Let's take a closer look at them.
Strengthen Body and Mind
The Chamunda Mantra can significantly enhance your physical and mental strength. It helps to increase your focus, concentration, and confidence. These benefits will help you achieve more in all aspects of life.
Improve Health
Stress, depression, and anxiety can all cause, and are themselves, health concerns. By protecting ourselves from these forces, it will strengthen our immune systems, our hearts, and our minds. Combined, our health will improve, as our bodies are no longer burdened by such concerns and can concentrate on healthy function.
Better Sleep
Peace of mind helps us attain peaceful, restorative sleep easier; we fall asleep quicker, sleep deeper, and feel more rested. When we're rested, we focus better, have more energy, and achieve more in our lives. The Chamunda Mantra can be a powerful tool for those who experience poor or restless sleep to restore themselves to a healthy sleep schedule.
Protection From Negative Forces
The world is full of negative energies; stress, depression, anxiety, the ill-wishes and curses of our enemies, or own doubts and self-loathings.
This Mantra is a powerful blessing, and she a powerful goddess; she will protect you from these negative influences, bringing you peace of mind, body, and spirit.
Improve Study
Students can use this mantra to aid them in their studies. The mantra bestows upon the practitioner better mental focus and acuity, helping students to retain and recall information. This can be a powerful tool for those with heavy study loads who feel themselves struggling under the weight of expectations and looming test results.
Improve Your Career
When we are protected from stress and negativity, we are able to perform better at important tasks. Our confidence in ourselves, as well as our determination and motivation, will all improve. With the blessings of the Chamunda Mantra, you will become the hardest worker at your job, providing many opportunities for promotion, raises, and career advancement.
Strengthen Your Relationships
Romantic and platonic relationships inevitably undergo struggles over time. We are only human, with conflicting needs and desires, and intense passions that can flare into arguments. These negative times and rough patches, be they between lovers, friends, or family, are just some of the negative energies and forces from which she will protect.
Final Thoughts
She calls upon the feminine forces of the universe to bestow upon us blessings of protection, prosperity, and health. While she is the wrathful incarnation of Durga, her wrath is aimed at evil and negative forces; at those things that would harm her devotees.
To demons, Chamunda is a fearful opponent; but to those who call upon her, she is a protective guardian here to usher us from evil to righteousness and prosperity.
Use this mantra to bring untold benefits to your life, not just for the small or everyday things, but for those profound causes which improve your quality of life. From the study, to work, to our many relationships with others, she frees us from negative forces and blesses us with positivity.