We invoke Lord Hanuman when we chant the Karya Siddhi Mantra. And people, especially those who are facing troubles and difficulties, are recommended to recite this miraculous mantra to obtain Lord Hanuman's manifold blessings. Let's take a closer look at this mantra.
A Free Printable Chanting Guide to help you chant Karya Siddhi Mantra
I'm so proud of this chanting guide, so I couldn't be more excited to share it with you today!
As you may know by now, I like to write long and helpful posts for my readers. Sometimes, however, I get an idea to do something more, something even more useful.
That's why I decided to prepare something that people could have in hand while reciting mantras. Something printable, easy to read, and that could act as a puja guide.
That's how these guides were born.
Each guide has a big picture of a divinity that you need to devote to, a mantra, and a how-to guide to help you prepare yourself for reciting. It's in A4 format, and all you need to do is to print it.
This particular Karya Siddhi Mantra chanting guide is completely free; all you need to do is to enter your email in the box below to unlock it.
[emaillocker]
Just click on one or all of the links below and the free PDF file will download immediately!
Karya Siddhi Mantra Chanting Guide – Click Here to Get It
[/emaillocker]
What is Karya Siddhi Mantra?
The Karya Siddhi Mantra is a short mantra containing two lines dedicated to Lord Hanuman, worshipped by the Hindus as the protector of humanity in Kali Yuga. The Hanuman Mantra is believed to help us accomplish our goal as well as grant us with the courage and strength to face the difficulties and challenges in life.
For achieving greater success and peace in our lives, it is advisable to meditate on the powerful mantra regularly.
By chanting the mantra, Lord Hanuman blesses the job-seekers to get employment in one's own desired professions. Additionally, the professionals or other people in business can also attain significant career growth and advancements in professional fields if this mantra is chanted with selfless devotions. Lord Hanuman's blessings will come in the form of innovative ventures and other successful launches.
It benefits students by helping to achieve exceptional results in pursuing a goal in aspired colleges or universities. Thus the powerful Hanuman mantra serves as a success-yielding mantra that can make all our wishes come true. Worshipping Lord Hanuman is believed to bring all-round success coupled with courage and will to prevail over tough times in life.
Who Exactly is Lord Hanuman?
As per the Valmiki Ramayana epic, Lord Hanuman is the son of Anjana, an Apsara and the monkey king, Kesari, and also the son of Vanu, the Hindu Wind Deity who is believed to play an essential role in the birth of Hanuman. Besides appearing as one of the principal characters of the Ramayana text, we can also see Lord Hanuman in other Hindu epics like the Mahabharata and many other Puranas.
According to Hindu mythology, Lord Hanuman is also called the God of Celibacy and the absolute Brahmachari. The Hindus consider Hanuman as the archetypal Karma Yogi for having total power and control over the thoughts and minds. Yoga is all about being able to control one's senses. And Lord Hanuman is believed to achieve this through a controlled behavior strengthened by celibacy and sincere meditation and devotion.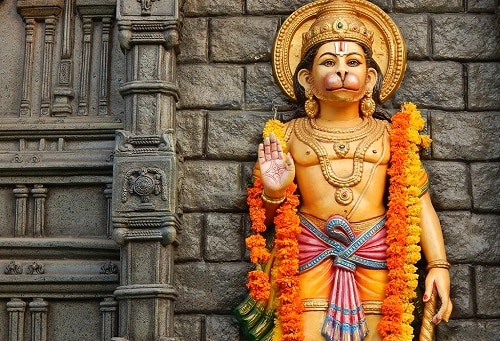 Importance of Lord Hanuman in Hinduism
Lord Hanuman presumably remains as one of the chief revered deities in Hindu religion. The devotees worship Hanuman to ask for strength and determination to face the odds of life. Lord Hanuman is a phenomenal Hindu God who remained indestructible and is the most intelligent and the most dynamic among the monkey chiefs.
The Hindus worship Hanuman for the undying dedication and commitment shown towards Lord Rama. Lord Hanuman was a devoted follower of Lord Rama and was among the various Vanaras born from the Gods to help Lord Rama in fighting Ravana, the unconquerable Lord of demons. The strong Hanuman is believed to travel and cover a distance of hundred yojanas to Sri Lanka to find where the cruel Ravana took Sita, Lord Rama's wife. To return the favor for the unconditional devotion, Lord Rama granted eternal life to Hanuman.
Lord Hanuman is one among the seven Chiranjivi, an immortal being that lives till the end of Kali Yuga (life cycle). The son of the wind-god had superior and unmatchable physical strengths. According to the Hindu epic, Ramayana, Lord Brahma granted a boon that no divine weapons or nooses can harm or affect the mighty Hanuman. He can enlarge the body at will. This boon allowed him to fly even across the planets, or up towards the sun and back to earth again.
Various names of Hanuman
According to some Hindu legend, the name Hanuman comes from the Sanskrit word, "Hanu" which means "jaw" and "man" meaning "disfigured." We can support this interpretation by tracing back to the story of a young Hanuman mistaking the sun as a ripe mango and in attempting to get it, was struck by Lord Indra with his thunderbolt (Vajra) as a result of which it wounded and disfigured the jaw of Hanuman.
Many other names such as Maruti, Vayu Putra, Bajrangbali, Pawansuta, Mangalmurti are used to address Lord Hanuman. The most common name for Hanuman is Vaanar or the half-man, half-ape god. In Tamil language, Hanuman goes by the name Anuman, Hanumanthudu in Telegu, and Hanumantha in Kannada.
Some of the many names of Hanuman are;
Anjaneya or Anjanisuta or, the son of Anjana (mother of Hanuman). Also known as Anjaniputra in Kannada, Anjaneyar in Tamil
Kesari Nandan or the son of Kesari (Hanuman's father)
Maruti, meaning the son of the God of Wind
Bajrang Bali or the 'the mighty one' or 'the physically powerful one.'
Sankata Mochana or 'one who eliminates dangers.'
Mahavira or 'the most valiant one.'
Symbolic Importance of Lord Hanuman
Lord Hanuman symbolically stands for selfless love, full submission, and total self-control, the individual self, without any ego or pride. The character of Hanuman teaches us the things we could do in our daily lives by showing our sincere devotion towards God and align ourselves with good forces through absolute faith and commitment.
Lord Hanuman is the embodiment of virtue and supernatural courage and symbolizes all these powers. Being the son of Vayu, the Wind God, and Hanuman also symbolically embodies the psychic bodies, including breath, mental, and intelligence. Hanuman was able to achieve this through self-discipline and by living a clean and celibate life.
Additionally, Lord Hanuman symbolizes the beast in man wherein the path of dedication and duty to God was practiced to attain immortality. Hanuman is representative of the perfect blend of power, courage and total perfection and the loving and ardent devotion towards his deity, Lord Rama as Shakti and Bhakti. Modern literature attributes him as the patron of martial arts like acrobatics, wrestling, and meditation.
Therefore, Lord Hanuman symbolizes several forms at various levels. He is the superman, the immortal one, the complete man, the intelligence in man, the ape-man, and the winged human or Vanara.
How to Chant Karya Siddhi Mantra?
The Hindu seers and sages (Pundits) recommend reciting the Karya Siddhi Mantra 3, 9, 11, 27, 108 times (or more) for continuous 40 days to facilitate in achieving our aims and having the will to fight all hindrances that come our way. However, obtaining such benefits will also depend upon our sincere belief and unfailing devotion.
Before we go into the details, let's look at the definition of a mantra.
A mantra refers to the divine expression of a word or few verses uttered with sincere devotion and constant belief in God found in the ancient Vedic literature. A mantra can either be one syllable including "Om" or words or phrase or verse. It is expressed repeatedly in a musical style to call upon God and to receive his blessings.
Examples of mantras:
"Om" is a mantra of its own summoning the everlasting spirit by sending a sensation of waves throughout the whole universe with the 'Om' sound. It is used mostly for concentrating oneself on meditation.
"Om Namah Shivaya" is a mantra uttered many times to please Lord Shiva.
"Om Namo Narayanaya" is also another powerful mantra recited several times to glorify and receive blessings from Lord Vishnu. There are still many other Hindu mantras meant for glorifying and invoking deities in several forms to achieve specific goals
There are many other Hindu mantras intended to please and invoke God in different forms to achieve particular goals.
The Hanuman Karya Siddhi Mantra
It is also known as the Lord Hanuman mantra for success, and it involves reciting two short lines. This mantra helps us to accomplish our goal, helps us to achieve success as well as enable us to face the difficulties in life courageously.
We have provided below the mantra with its lyrics, its meanings, and its translations into English.
"Tvam Asmin Kaarya Niryoge
Pramaanam Hari Sattama.
Hanuman Yatna Maasthaaya
Dukha Kshaya Karo Bhava"
The meaning and Translation into English of the Karya Siddhi Mantra (word by word)
Tvam (you) Asmin (my or mine) Kaarya (work or task) Niryoge (success, or accomplishing something with a stability of mind) Pramaanam (an epitome or proof) Hari Sattama (the noble or the most kind among apes) Hanuman (the monkey chief and a believer of Lord Rama) Yatnam (efforts or struggles) Aasthaaya (to take control) Dukkha (grief) Kshaya (elimination or removal of misfortunes) Karo (to do something) Bhava (let it be or Amen).
The translations of the Hanuman Karya Siddhi Mantra into English
O Hanuman, you are the perfect symbol of the achievement of any challenging tasks.
O Hanuman, I beg you to take control of my struggles and ask for your protection in eliminating the problems and sorrows of my life. Amen.
We must chant this powerful mantra repeatedly for at least 108 times or 11 times each day for continuous 40 days to obtain bountiful blessings from Lord Hanuman. This mantra is recited to invoke the mighty Hanuman to aid us in accomplishing our tasks.
Follow the procedures below before chanting
Always take a bath or wash hands and feet before chanting the mantra.
Always sit and face the direction of the East when reciting.
Dedicate fully to Lord Hanuman and experience the positive energy of the Universe.
Use Lord Hanuman's photo or look up toward the sky when performing the puja.
Dress in white clothes with a few traces of gold garments to display absolute dedication and loyalty.
Chant the mantra with faithful devotion.
Best time to chant the mantra is before sunrise.
Best days to recite is on Tuesdays, Saturdays during Moola Nakshatra Days, Chitra Paksha or Hanuman Jayanti.
It is advisable to chant this powerful mantra every day.
Recite the mantra 3, 9, 11, 27, 108 times or more (216, 324, or 1,008) on the rosary beads such as the Rudraksha Japa or the Tulasi Japa mala each day for 40 days.
Offer foods like Vada, made from black grams, butter, and bananas.
Present offerings such as a garland made from betel leaves along with aromatic flowers.
The Amazing Benefits of the Karya Siddhi Mantra
The Hindus worship Lord Hanuman, who is known for his superior strength, courage, and wisdom. Hanuman is also believed to be an incarnation of Lord Shiva and also serves as a symbol of devotion for his selfless dedication and service towards Lord Rama.
Hindu devotees pray to Lord Hanuman for many reasons, and there are temples built and dedicated solely for the deity. One of the many ways to invoke Lord Hanuman is to recite this mantra, which is believed to have divine miraculous powers. The Karya Siddhi Mantra benefits a person in various ways when one recites the mantra in true faith and devotion.
This mantra is also known as the Lord Hanuman mantra for the achievement of goals.
Some of the benefits include:
It benefits job-hunters by helping them to get the job in the preferred field if one recites the mantra regularly.
Reciting the magical mantra daily also invokes Hanuman who bestows wisdom and helps students to excel in studies.
Chanting can help an individual to achieve higher career growth in one's profession. Other significant achievement includes taking up new opportunities and successful ventures.
Regular recitation also helps a person to go through the most challenging times that one encounter at home or work.
Hanuman blesses a person with courage and sheer determination to overcome difficulties and struggles that one faces in life.
Final Thoughts
To obtain more blessings from the kind and soft-hearted Hanuman, continue chanting it regularly. Lord Hanuman is the epitome of success, courage, and strength, and by worshipping the son of the wind god with a pure heart and total reverence, we can get all the blessings we need. Lord Hanuman gives us strength and the will to look forward in times of trouble.
Related articles:
The A-Z Guide to Narasimha Mantra
The Complete Guide to Durga Mantra
The Absolute Guide to Navagraha Mantra