Tulsi beads made from Tulsi (Tulasi) are considered as one of the most sacred plants in Hindu religion and is commonly found in every traditional household, placed at north-east corner or center of the house. It is believed that Goddess Lakshmi (the Goddess of Wealth) herself resides in the Tulsi plants. It is customary for every married woman to pray to Goddess Tulsi for the welfare of their families.
People following the Vaishnavism theology are often spotted wearing strands of beads upon mostly as necklaces around their necks. For example, devotees from ISKCON society can be seen flocking around the world, wearing Tulsi malas and merrily chanting the holy mantra – Hare Rama Hare Krishna.
It is commonly believed that upon wearing these beads, Lord Vishnu never leaves his devotees and always stays by their sides. Even any offering to Lord Vishnu is incomplete until and unless it is accompanied by the Tulsi leaves.
They have spiritual powers and acts as a linkage between earth and Vaikunth Dham (holy abode of Lord Vishnu).
Upon wearing of these beads, it keeps the wearer away from the wraths of Yamaraj (the God of death). Being dear to Vishnu, it is believed that a person decked with Tulsi Mala gains more benefits than any pooja or other holy rituals. People wearing these beads attain liberation and directly ascend to the Vaikunth Dham and merge with the Holy Divine.
Mythologies Related To Tulsi
According to Holy Scriptures, Tulsi was a dutiful woman named Vrinda and was married to Jalandhar (the demon king). Vrinda was a staunch devotee of Lord Vishnu and due to her penance and immense devotion, Jalandhar became indomitable. Jalandhar became so strong that even Lord Shiva was unable to defeat him. Lord Shiva then approached Lord Vishnu and asked for his help. Lord Vishnu transformed himself and tricked Vrinda in believing that he was Jalandhar.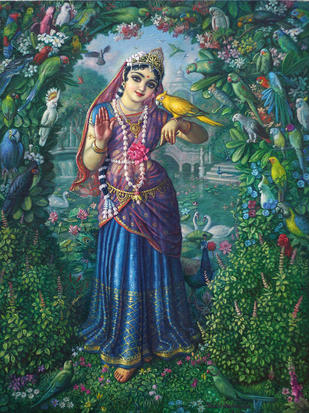 This destroyed the chastity of Vrinda and Jalandhar finally got killed. Realizing this fact, Vrinda cursed Lord Vishnu that he would become a black stone and will get separated from his wife. Cursing Lord Vishnu, Vrinda immolated herself and became a Tulsi plant. In the meanwhile, Vishnu blessed Tulsi, that He would get married to her in the form of Shaligram stone (black stone). This made Tulsi a Goddess and highly revered.
Another scripture points to the fact that Tulsi came out of the Samudra Manthan (churning) of the Ksheer Sagar (milky ocean) for the benefit of mankind. She was later married to Lord Vishnu. Therefore, Tulsi is considered as the plant incarnation of Devi Lakshmi and a consort of Lord Vishnu. Due to this fact, she is also known as Haripriye (dear to Lord Vishnu), Krisna-Jivani (life and soul of Krishna), Visva Pavani (purifier of the three Lokas) and Vrindavani (found in Vrindavan).
Tulsi Plants and its Classification
Tulsi plant, also known as Holy Basil is commonly found in the South-East Asian regions, especially in India. These are short perennial shrubs which run up to a height of 3 feet and when fully grown, bear very small rounded flowers at the tip. They have small dark elliptical leaves and have a very strong aroma and are astringent in taste.
Commonly, there are two types of Tulsi plants that have been given much importance in Vaishnavism, namely; Ram Tulsi and Shyam Tulsi.
Ram Tulsi leaves are elliptically shaped and are bright green in colour. It is mainly used in pooja rituals and meditation. It boosts our self-confidence and brings positivity in our lives. The malas made of Ram Tulsi are beneficial for people who have scattered minds and erratic behaviours, as it helps to keep the wearer focussed.
Whereas, Shyam Tulsi (also known as Krishna Tulsi) leaves are purplish green and are conical in shape. The beads of Shyam tulsi help us to remain stress free and impart positive energies in our bodies. Upon wearing of Shyam beads, people are guided to the path of spirituality and are enlightened. Shyam Tulsi also blesses the natives with material and financial prosperity in their lives.
How are Tulsi Beads Made?
Tulsi beads are made out of the wood of Tulsi plants. The roots, stems, and twigs of these plants are dried in Sun. Thereafter, they are manually cut, shaped in the form of rounded objects. The rounded beads are then drilled so as to make them pass through a thread. It is further polished and handcrafted with intricate designs to make it look more beautiful and to increase its durability.
These beads are then passed through a strong silk thread to make a Tulsi Mala. Usually, 108 beads are there in a Tulsi mala with an additional bead which is known as the Sumeru bead. The Sumeru bead is made larger than other beads in the mala and is sometimes known as the Bindu.
So if you're asking how many beads in tulsi mala? The answer is usually 108 beads!
Here's a short video that shows how are people handcrafting tulsi beads.
[embedyt] https://www.youtube.com/watch?v=Z84vflBfXOU[/embedyt]
What are the Benefits of Wearing Tulsi Mala?
Tulsi beads have divine powers and represent Goddess Lakshmi- the holy consort of Lord Vishnu. It is believed that Goddess Lakshmi never leaves the native wherever the Tulsi is present. Being dear to Lord Vishnu, it has infinite mystical powers which can spiritually elevate the native from this mundane world. Besides, Tulsi has great medicinal values and are frequently used in the Ayurveda sciences for treatment of various diseases.
Here is a list of benefits of wearing Tulsi Mala:
According to Skanda Purana, upon wearing of Tulsi mala, a person is liberated from all sins in his life.
Wearing of Tulsi mala increases the concentration of the natives and it helps the wearer to remain calm, relaxed and focused at the same time.
It guides us to a path of spirituality and enlightenment.
Beads can help us to balance the Kapha and Pitta Dosha in our bodies. Excess weight, improper digestion, sluggishness, and whooping cough can easily be cured with the help of beads.
Wearing of Tulsi mala can shield us from voodoo, black magic, and psychic attacks. It protects the wearer from bad dreams. Untimely death doesn't occur to a native if he is decked with the mala.
Tulsi is a great antioxidant and thus detoxifies and purifies us from within. Therefore, the aura of the native increases and he radiates positivity, even from a distance.
No one can harm a person who wears a Tulsi mala as he is under the guidance of Lord Vishnu. Thereby, it protects the natives from sudden accidents and enemies.
Tulsi has antibacterial properties and wearing of Tulsi mala can remove all skin related problems in our bodies.
They remove all the harmful toxins when it comes in contact with our bodies. Therefore, it regulates blood pressure and controls the sugar-related problems in our bodies. It is also capable of controlling the cholesterol levels in our bodies.
Astrologically, it is believed that it can pacify malefic Mercury and Jupiter in a birth chart and enhances its benefic qualities.
Tulsi plant has excellent medicinal properties and is considered as the "elixir of life" in Ayurvedic science. Problems like acute cough, cold and flu can be easily cured with the help of Tulsi leaves. In the modern world,
people often use Tulsi leaves as herbal tea to rejuvenate themselves. Having antiseptic and anti-bacterial properties, they are also frequently used in the treatment of throat infections. The high anti-oxidising properties of these leaves keep blood-related problems in check.
How to Identify Original Tulsi Beads
You can easily find Tulsi mala in every nook and corner in India as they are mainly made by small artisans.
In order to check for the authenticity of the Tulsi mala, keep it in a bowl of water for 30 minutes. If the color of the mala remains as it is, then the Tulsi Mala is an original one.
How to wear Tulsi Beads?
Once you have purchased the Tulsi Mala, it should be energized (Prann Pratistha). This can be done by putting the mala in front of Lord Vishnu in a temple. Worship it with incense sticks and pure water (preferably Ganga jal), and cow's milk.
Thereafter chant the Hare Krishna Mahamantra:
Hare Krishna Hare Krishna
Krishna Krishna Hare Hare
Hare Ram Hare Ram
Ram Ram Hare Hare
This mantra should be chanted at least 108 times. After finishing the chant, one must wear the mala around the neck. It is recommended to wear Tulsi Mala on Thursday or Friday as these days are controlled by Lord Vishnu and Goddess Lakshmi.
You can wear one, two or three strands of mala as per your dedication to Lord Vishnu. The more strands you wear, the greater is your commitment to the divine. However, for a new devotee, it is recommended to wear a single strand of the mala.
If you are using Tulsi rosary for prayers, then it is customary to do one mala jaap of "Hare Krishna Mahamantra" at any time of the day.
If you are doing multiple mala jaap, then remember never to cross over the Sumeru bead. Therefore, after completing 108 chants, you should reverse back for the next 108 chants.
Who Can Wear Tulsi Beads?
Tulsi is a divine manifestation of Goddess Lakshmi and is considered very sacred. So, one must follow a few rules when wearing the beads of Tulsi.
Non-veg foods must be completely avoided.
One should not consume ginger and garlic in any form as they are considered Tamsik.
Avoid gambling, alcohol, and drugs.
You should never make a physical relationship outside your marriage.
The malas should never be removed from the body at any point of time.
The malas should never be exchanged or given to anyone.
So the Final Question is: Can Anyone Wear Tulsi Beads?
There is no restriction on wearing of Tulsi Malas and everyone can wear it. The beads of the Tulsi are sacred and have mystical powers of connecting you to your higher self.
These beads can help you to attain salvation (moksha) from the cycles of death and re-birth and merge you with the Holy Divine.