Kali Mantras are powerful and auspicious hymns that are devoted to Goddess Kali, who is considered to be one of the fiercest and powerful deity. These mantras are the best way to achieve happiness and success in life.
A Free Printable Chanting Guides to help you chant Kali Mantras
I'm so proud of these chanting guides so I couldn't be more excited to share them with you today!
As you may know by now, I like to write long and helpful posts for my readers. Sometimes, however, I get an idea to do something more, something even more useful.
That's why I decided to prepare something that people could have in hand while reciting mantras. Something printable, easy to read, and that could act as a puja guide.
That's how these guides were born.
Each guide has a big picture of a divinity that you need to devote to, a mantra, and a how-to guide to help you prepare yourself for reciting. It's in A4 format, and all you need to do is to print it.
These Kali Mantra chanting guides are completely free; all you need to do is to enter your email in the box below to unlock it.
[emaillocker]
Just click on one or all of the links below and the free PDF file will download immediately!
Kali Mantra Blessing Chanting Guide – Click Here to Get It
Kali Gayatri Mantra Chanting Guide – Click Here to Get It
Kali Chants Chanting Guide – Click Here to Get It
Dakshina Kali Dhyan Mantra Chanting Guide – Click Here to Get It
Maha Kali Dhyanam Mantra Chanting Guide – Click Here to Get It
Kali Beej Mantra Chanting Guide – Click Here to Get It
Kali Mantra Chanting Guide – Click Here to Get It
Maha Kali Mantra Chanting Guide – Click Here to Get It
Kalika-Yei Mantra Chanting Guide – Click Here to Get It
Fifteen Syllable Kali Mantra Chanting Guide – Click Here to Get It
[/emaillocker]
What is Kali Mantra?
Kali mantras are a medium through which you can worship Maa Kali and ask her blessings. These mantras carry vibrations that make the Goddess respond directly to her devotees.
Maa Kali is known as the preserver of Earth as she is another form of Goddess Durga. She is also known as "Dark Mother" because of her destructive power. She is simultaneously portrayed as the destructor and the giver of life in this universe. Even though she is harmful in nature, she is still a powerhouse of love and compassion.
These Kali mantras invoke the power and blessings of the mighty Maa Kali. Regular chanting of these mantras will help to align your life with specific situations, although the results may be drastic sometimes and unexpected because of her destructive nature. When you feel impatient in your worldly or spiritual pursuits, these mantras will rescue you.
Goddess Kali is the destroyer of the negative ego and provides spiritual liberation. She has an omnipotent and fearless presence that fills her devotees with security and confidence.
These mantras benefit those who want to curb evil permanently from their heart and find a way to attain peace. Even with her fierce form, Goddess Kali nurtures her devotees like her children. She listens to their pleas and removes sufferings from their lives.
Who Exactly is Goddess Kali?
Goddess Kali is one of the forms of Shakti and is the fiercest of all the forms of Shakti. She is also known by some other names such as Rurani, Bhadrakali, Mahakali, and Dakshinakali.
The word 'Kali' is the female form of 'Kaal' which means 'time.' She holds energy that is beyond time and anyone's control. Maa Kali can be ruthless in her pursuit of destroying evil and is a perfect epitome of Shakti.
Maa Kali has black skin, her red tongue hanging out from her mouth with loose hair. She wears a garland of skulls or heads of demons with blood dripping from those.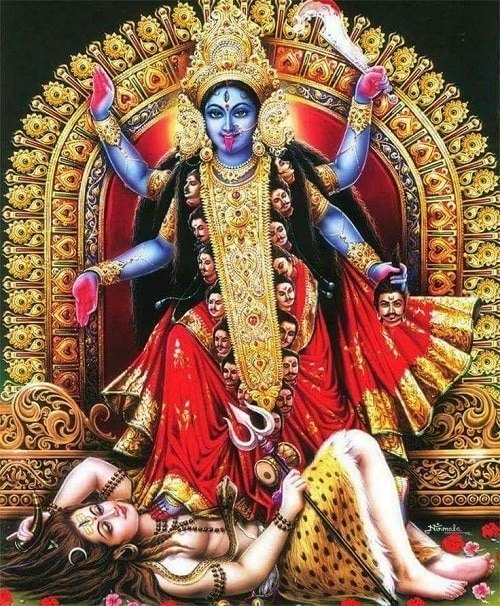 She has four arms, one arm holding a sword, other holding a Trishula, the third one holding the head of a demon Mahishasura. And her fourth hand holds a bowl that is filled with blood which she drinks.
She is portrayed standing with her one foot on the chest of her consort who is Lord Shiva, who lies on the ground peacefully.
This aggressive form of Goddess Kali has always been misunderstood from time immemorial. We forget to decipher the signs that her image portrays.
For example, her dark skin color means that she will eventually devour everything evil. Her loose long hair shows freedom from any norms that are associated with being a woman. And the hanging tongue is her way of mocking all those ignorant people who don't understand her power and misunderstand her.
She is contradictory to the rest of the female deities that we know about. Goddess Kali symbolizes power, destruction, and independence that does not stay within any boundaries.
Maa Kali has specific power tools such as the Kundalini Shakti (the power of spiritual current); the Kriya Shakti (the potential to affect the universe with creativity) and Iccha Shakti (the power of Will power).
All these tools affect our physical movements and actions. But for the world, it affects the galaxies to push away from each other.
Maa Kali originated to kill the demons, and by killing them, she promotes the idea that evil will always be destroyed whether it is in the form of a being or the form of ego in our minds.
How to Chant Kali Mantra?
Maa Kali Mantras are potent mantras which should not be taken lightly or for fun. You need to be an honest and committed devotee of Maa Kali, and only then you can expect the desired results.
These mantras, when chanted regularly, will lead you to happiness and spiritual freedom.
The Kali Mantras are listed below:
Kali Beej Mantra
"Om Krim Kali"
Here, the meaning of Krim is
K stands for full knowledge,
R means she is auspicious,
I mean she bestows booms, and
M that she gives freedom.
Chanting of this mantra will protect you from all evil forces.
Kali Mantra
"Om Kring Kalikaye Namah."
This mantra is a sound representation of the Mother.
Benefit: This mantra is simple and transforms the devotee into pure consciousness.
Maha Kali Mantra
"Om Sri Maha Kalikaye Namah."
This mantra means that 'I bow my head to the divine Goddess Mahakali.
Kalika-Yei Mantra
"Om Klim Kalika-Yei Namaha."
This Kali Mantra, when chanted regularly, will remove your problems and sufferings even if they are complex.
Fifteen Syllable Kali Mantra
"Om Hrim Shreem Klim Adya Kalika Param Eshwari Swaha"
This mantra is believed to bring subsequent growth to one's spiritual mindset.
Kali Mantra Blessing
"Kring Kring Kring Hing Kring Dakshine Kalike Kring Kring Kring Hring Hring Hung Hung Swaha."
This Kali mantra is used by her devotees to worship her. She blesses her devotees by removing ignorance and fear of death.
Kali Gayatri Mantra
"Om Maha Kalyai
Ca Vidmahe Smasana Vasinyai
Ca Dhimahi Tanno Kali Prachodayat"
This powerful mantra will help to divinely transform your mind from a gross state of worldly affairs to a high level of consciousness with the blessings of Maa Kali.
Kali Chants
"Om Kali, Kali! Om Kali, Kali!
Namostute, namostute, namo!
Namostute, namostute, namo!
Ananda Ma Ananda Ma Kali
Ananda Ma Ananda Ma Kali
Ananda Ma Ananda Ma Kali
Om Kali Ma!"
These are the simple Kali Mata Mantras to please the Black Goddess.
Dakshina Kali Dhyan Mantra
"Om karala-badanam ghoram mukta-keshim chatur-bhuryam.
kalikam dakshinam dibyam munda-mala bibhushitam
sadya-chinna shira kharga bama-dordha karambujam
abhayam baradan-chaiba dakshina-dardha panikamese."
This mantra is also known as karpuradi stotram.
Maha Kali Dhyanam Mantra
"Om khargang chakra-gadeshu-chapa-parighan shulang bhushundIng shirah shankhang sanda-dhatIng karistri-nayanAng sarbanga-bhushabritam. nIlashma-dyutimasya pada-dashakang sebe maha kalikang yamastou-chhaite harou kamalajye hantung madhung kaitavam."
Through this mantra, you are praising her divine form that is adorned with ornaments, weapons, and severed heads and limbs. You are seeking her blessings and protection from any evil.
These Kali Mata Mantras are chanted to gain the blessings and protection of Maa Kali.
But there are some procedures or rules that you need to follow while you are devoting your time on these mantras. When you follow these rules, you are portraying your level of self-discipline and devotion towards Goddess Kali.
Always take a bath or wash your hands and feet before you sit for chanting.
Try to avoid consuming meat or alcohol before chanting mantras.
Sit facing the East or North direction when chanting.
The best time to chant the mantras is early in the morning before most people wake up.
Keep a picture or idol of Maa Kali before you while chanting. If you don't have a photo, then look towards the sky.
Try to wear white clothes having a few pieces of blue and black garments, to show your full devotion and faith.
You need to recite these mantras for at least 21 days regularly.
You need to chant every day without any break.
They need to be recited at least 27 times every day. You can also chant them for 90, 108, 216, 324 or 1008 times.
To facilitate your chanting, you can use a prayer bead necklace made from a Tulsi (Basil) or Rudraksha (a traditional prayer bead). The prayer bead will help you keep count.
You don't have to please her with lots of offerings. Your undivided devotion and honesty are what will please her eventually.
As you keep on regularly chanting these mantras, you will feel a subtle vibration that will cleanse your mind and soul.
Maa Kali is worshipped in the festival of Kali Puja in the Eastern states of India during Diwali.
Animal sacrifices are also common in the states of Bengal, Orissa, and Assam. The Hindu temples where these rituals take place make sacrificial offerings of goats, chickens, and even male water buffaloes. But this practice is becoming less common.
These rituals are led by Brahmin priests where a mantra is recited into the ears of the animal to be sacrificed so that the animal is set free from the cycle of Life and Death.
9 Miraculous Kali Mantra benefits
Goddess Kali is a powerful deity that symbolizes destruction and death. She exudes an aura that shows that she cannot be controlled and her power goes beyond time.
But she is also the mother of this universe, which means she takes care of her devotees like her children.
These are some of the benefits that you achieve if you pray to her with full devotion.
Removes workplace tension: If you are struggling to have a peaceful work environment because of tough bosses or unhelpful employees, then these mantras will help you to get job satisfaction. Those who work in dark places such as the mining sector, warehouses, etc. will be protected in their work activities.
Relief from Shani dosha: These Kali Mata Mantra benefit those who are suffering from the wrong placement of Shaani. If you have Kantaka Shani, Ashtaama Shani, Shani Dasha or Saturn is in the 4th, 8th or at the 12th house, then you will find faster relief in your slow-paced works from these mantras.
Solving problems regarding marriage: If you are finding it hard to get a suitable groom or bride to get married, then these mantras will help you in getting a suitable match for you. Any issues or delays relating to your marriage will be removed. Even after marriage, the couple will have a blessed marital life.
Relief in Childbirth: Some find it hard to conceive a baby, these mantras will help in conceiving a baby through regular chanting of these mantras with devotion.
Beneficial for students: This Kali mantra benefits students and helps them to focus and concentrate better to attain good marks in their studies. These will sharpen your mind and make you more intelligent. They become independent enough to can solve their problems quickly.
Gives strength and courage: These Kali Mantras are very powerful, and the vibrations from these mantras affect you mentally and physically. They provide you with strength and courage to face any problems that you have to deal with either in personal or professional life. Regular chanting of these mantras will help you to solve your problems, thus gaining confidence.
Spread positivity: When you chant these mantras regularly, you will find yourself filled with positivity. You will be more radiant, happy, and garner a positive attitude towards life. You become more stable and responsible enough to take your own decisions. These mantras bring stability in your life and give you maturity.
Inspiration for Women: Goddess Kali in herself is a perfect example of how Women should be when the society tries to put them down most of the time. Chanting of Maa kali's mantras will help women to be stronger and more independent to achieve their goals quickly. It also makes them good multi-taskers managing home and works effortlessly.
Removes evil and promotes overall prosperity: These mantras offer a protective cover for our life from any kinds of evil. It protects us from evil eye or evil energy that may harm us. Also promotes good health and wards off any health problems. Regular chanting of these mantras provides happiness, success, and prosperity.
Kali Mantra on YouTube
Here's an example of a powerful Kali Mantra video.
[embedyt] https://www.youtube.com/watch?v=aZtuCJo_pvY[/embedyt]
Final Thoughts
The divine form of Goddess Kali exudes power, freedom, independence, and destruction. Her strength has no limits, and she knows no mercy. These Kali Mantras have been designed in such a way so that they can invoke her inner goddess to shower blessings and protection on her devotees.
These Kali mantras are a perfect way to worship her and attain courage, success, happiness, and prosperity in your life.