Grounding techniques are needed today more than ever.
Today's world is hectic, and our attention is demanded through a myriad of sources. If it isn't a nag from our phone, perhaps it's watching the clock to ensure baby gets to the creche on time, or maybe we're ensuring a meal comes out just right for our eight-place dinner party. It can be tough.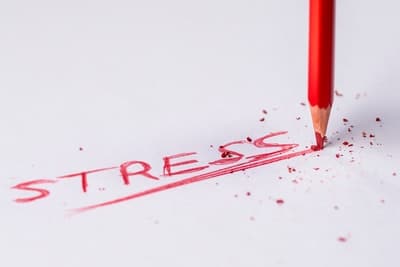 Whatever the cause of the distraction, it's not always practical to just down tools and launch into a yoga session to de-stress. Nor can one, whilst cooking a meal, realistically stop, find a quiet space and meditate.
A need to bring oneself back to the present moment is not limited just to those that have hectic or active lifestyles. Oftentimes, anxiety and spurious thinking might require first-aid. Times such as these benefit from a methodology for anchoring. We all deserve to relax, and if we are unable to stay calm for want of worrying about what we have been doing, or what we should be doing, then it is to our detriment.
Grounding for Work and Play
Living in the moment plays an important part in both work and play. Imagine for a moment that you had a personal and internal set of tools to bring yourself back to the present moment. Well, these tools are readily available, and this article intends to provide an overview of exactly how I, for one, have implemented such tools to effectively steer my days into calmer, happier waters.
For many, grounding techniques for earthing and grounding techniques for PTSD will form part of a broader spiritual journey. Perhaps this followed a realization that an adjustment in one's life was needed. If this is the case the techniques described in this article are likely to be more effective and have a greater impact because:
A person that has embarked upon a spiritual journey will give more credence to the grounding techniques that are described here.
Other techniques that often form part of a wider spiritual journey (which could include any number of disciplines from a holistic health movement such as reiki or meditation), will actively support techniques described in this article.
Irrespective of whether one is on a wider spiritual journey or not, these techniques work. Grounding is closely related to mindfulness and a simple metaphor for the grounding/mindfulness relationship might be this; mindfulness is like freewheeling happily down the street on a pushbike without support, whilst techniques below are the stabilizer put on each side of the rear wheel until freewheeling has been learned.
There are a number of techniques I want to describe to you to unravel anchoring. I will look at ways in which anybody can work towards permanently grounding, which as previously explained, is actually achieving a state that is referred to as mindfulness.
The methods described here may seem unusual or over simple at first, but they are effective. The result will be a much calmer, more poised and happier you. Like any habit, grounding will require some practice – who expects to pick up a musical instrument and become an expert straight away? It is the same with anchoring techniques.
A Personal Experience of Anchoring
I was embroiled in the rat-race, nine to five if I was lucky, often longer. Add to this a young family to raise, a sense of having never reached my potential, issues with self-esteem and a chronic health condition, and I was a perfect storm of a man in crisis in his late thirties. My body too was telling me there was a problem in several ways. Because in addition to having regular bouts of emotional turmoil, such as anxiety and depression, bits of my body were physically starting to bear the strain.
Something had to give. My lifestyle was obviously not aligning effectively with my inner needs and my ultimate journey. I turned to affirmations (a type of grounding as we shall see) and then went on to learn techniques through a regular meditation practice. I have rarely looked back since and now find myself on a wonderful journey in which I can go with the flow the vast majority of the time.
An Overview
Anchoring is an important series of practices, some overt, some internalized that can be used whenever one feels a need to remain calm, focussed or present. They bring all the benefits that mindfulness has proven to bring in a concentrated, effective dose. They are used as often as necessary to bring stability to my world and improve my mental health day in, day out.
The capacity to bring oneself back to the present moment is very useful. Other methods of earthing exist but "Earthing" as a means of connecting with the planet in order to bring more energy into one's life should not be confused with grounding. Earthing techniques as they relate to grounding, are something different. (They perhaps bring the same benefit as dedicated Earthing Techniques – speak to an earthing technique expert to verify this).
Grounding techniques can work in all manner of scenarios. They can be used to deal with general malaise and are perfect for more specific, stressful moments in life. For example, if I am about to undertake a job interview or am due to do a presentation at work, a grounding technique might calm my nerves and allow me to perform at my best.
It is said that many stage actors have pre-performance routines that they go through for good luck. Similarly, many athletes have pre-performance routines. Although these may be cast off simply as superstition or hocus-pocus, they are in fact important methods of grounding. If it works for the professionals, it can certainly work for us all.
There is a plethora of studies taking place about the impact of mindfulness on mental wellbeing and techniques below are part of the mindfulness jigsaw. Harvard researcher and professor of psychology, Ellen Langer, is conducting one such study and defining exactly what a state of mindfulness is. In the meantime, rest assured that meditation, mindfulness, and these techniques have a firm basis in ancient history and have been passed down from generation to generation because they are effective.
Top Tips for Starting a Grounding Practice
The number one tip I can give for starting a grounding practice is to consider incorporating a meditation practice into a weekly (or ideally daily) routine.

Grounding techniques for PTSD, grounding techniques for anxiety, or just plain vanilla techniques to use before entering stressful situations, will really be underpinned by a strong meditation practice. A meditation practice is really just a point of reference that can be harked back to at any point in the day. And contrary to what you may be thinking, this does not mean our grounding technique is a mini-meditation as it would be impractical to seek to go to into a full meditation prior to entering a business meeting, for example. It works more subtly than that.

Do not think that an Anchoring session will alleviate all stressors


The fight or flight instinct is a strong one. The body naturally seeks to remove itself from danger, so do not seek to counter this with any type of grounding or earthing techniques, since this would be both futile and dangerous!

Some Techniques are more visible than others


When alone, I tend to use a grounding technique that involves the body in some way. Although it is unlikely that onlookers will notice this, as for them, it would be no more than a casual movement, in company I often choose to use an internal focusing technique. Internal focusing techniques rely more on visualizations and as such are completely imperceptible to others.

Anchoring Techniques really become easier with practice


Like most things in life that are worth achieving, practice is the watchword. Anchoring is no different. Initially, your grounding sessions may feel clumsy and forced, but with continued practice and persistence, you will find that like me, anchoring flows with ease.

They become more effective with time


Do not expect your first anchoring session to be as effective as your hundredth. And do not expect your hundredth session to be as effective as your thousandth. Grounding is a journey, and it is as limitless as the mind itself is. This is good news; I for one am excited by the prospect of constant, infinite improvement. Perfection is unattainable, there is only the path.

Consider setting a reminder to Anchor or use the natural pauses in the day


When I first started out anchoring during the day, I was advised to place small stickers to act as reminders to anchor my mindfulness. This is good advice and I subsequently realized that there are natural pauses in the day that can be used as prompts to anchor. For example, waiting for the little green man at crossings, or waiting for downloads to complete on computer screens are both ideal times to anchor.
List of Anchoring Techniques
Once you form the habit of grounding the tactics and approaches to finding a technique that works knows no limits. Just as each actor and athlete will have their own personal preperformance routine, so each of us too can develop our own techniques.
Initially, do not seek to learn these techniques at any time it is necessary to have complete attention to a task in hand. Although I have never lost consciousness whilst practicing these techniques (and mindfulness actually makes us more present to actions), you will want to fully concentrate in the early days.
7 Powerful Grounding Techniques for PTSD
The Body Scan
The Body Scan, like many techniques, is actually an integral part of many meditation practices. To perform a body scan, imagine a bright, nourishing light at the top of your head. Now take around thirty seconds to allow the light to scan down through your body. Without trying to change anything, notice how each section of your body feels, down through to your feet. You can also get a body scan meditation script here.
Nasal Breathing
This borrows from another technique which I learned as part of Buddhist meditation. It's simple and effective: breathe in through your nose (or through pursed lips) and notice the difference in the temperature flowing in and out. Sometimes I add a count to this method – so breathe in (1), breathe out (2), in (3), out (4). Count to ten then start again at 1. Repeat three times and you will have successfully grounded yourself.
1,2,3,4,5 Senses
Simple and remarkably effective. Spend thirty seconds or so trying to tune in to a single sense. For example, right now I see subtle movements in the paper of a notebook, can hear the falling of the rain, feel the grooves under my keyboard, taste remnants of coffee on my tongue and fancy I can smell shaving products. If you don't succeed, that's okay – the point is not to achieve and become an expert, but to attempt.
Fabric Rub
Rub the fabric of your shirt, jeans, or any other fabric near you, between your fingers and think about how it feels. It's essential that you focus on that feeling.
Ice Cube
This is a very popular technique. You need to let an ice cube slowly melt in your hand. It feels so good and so calming.
Heel Press Technique
This technique literally grounds you. Press your heels into the floor and focus on the pressure for 30 seconds. If you're sitting in a chair, press your elbows into the armrest.
Grounding Stone
Keep a small item in your pocket. It can be a small stone that means something to you or a similar item. Run your fingers over this item and feel it.
9 Powerful Grounding Techniques for Anxiety
Mindful Walking
Mindful walking involves purposefully and somewhat slowly walking from one point to another. Feel each part of the foot contact the ground. Ideally, this may be in the fresh air or better still in nature. I have also successfully grounded myself by walking at home in the living room. Walking without shoes or socks on can be particularly beneficial.
Personal Affirmation
"This too shall pass…" A common affirmation that is used when anxiety strikes. To practice this, internally repeat your affirmation for around thirty seconds. Affirmations can be individual and highly personal. Think about incorporating words like "strength", "peace" or "emotions". E.g: "I am strong and can handle my emotions…" For added effectiveness combine with mindful walking, nasal breathing or the body scan.
Thumb to Fingers
Anchoring techniques can be fun too. Take your thumb to each finger in turn and count five fingers using your thumb. Before you know it, you'll be in a tiswas and will have to start again! I find this very absorbing and regularly practice.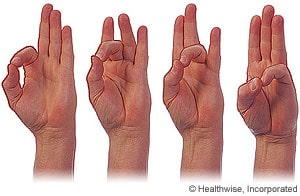 Hourglass or Snow Globe
Hourglass's soothing gray grains make a relaxing whirring sound as they pool to the bottom of the glass, creating white noise to calm anxiety and stress. A snow globe works similarly.
Lightning Candles
Your eyes and nose capture the low light and mesmerizing scent that come from a candle and sent straight to your brain for processing. The body begins to relax immediately, helping how we feel physically and emotionally.
Playing Music
Here it's crucial that you pick the right types of music. It's nice to have a playlist ready for specifically just for these moments. I prefer to listen to nature sounds by Zen12.
Phone Notifications
Change them. Each time you'll hear a new noise that you aren't used to, you'll be alarmed back to awareness.
Adult Coloring Books
You've probably heard about them by now. There are many benefits of these books, but the most important in our case is focusing on the present and stress and anxiety relief.
Talk to Someone
Having a "safe person" nearby or available by cell phone will help you calm down in tough situations.
When the Technique is Over
It's very important, as far as possible, not to startle oneself out of a grounding practice. My usual way of ending an anchoring session is to gently ease myself out of the session, by:
Allowing the mind to do exactly what it wants
Perhaps for thirty seconds or more, just allow the mind to do exactly what it wants. In this way I am not placing any pressure on my mind to drop back into the gear it was in before I started the grounding technique.
Make a commitment to further ground throughout the day
When I have eased myself out of my grounding session, I often make a mental commitment to undertake another anchoring exercise across the course of the day. I remind myself of the natural triggers in my day that might prompt a session.
If the circumstances allow, make the environment more conducive to peace
I often like to use calming music to prolong the reconciliation between mind and body that can take place following an anchoring session. Other ideas might include lighting incense or taking a herbal drink to invigorate the senses.
It Doesn't End with Anchoring
Anchoring, methods of earthing and grounding techniques are just the beginning. Perhaps you will find that a daily anchoring program will lead to a wider meditation program, which in turn leads to a lifelong spiritual journey. Whatever your level of commitment or degree of enthusiasm, grounding will improve mental wellness no end. The practice is discreet enough that it can be used in company without explanation and will effectively assist you through crises of confidence or any number of other trials life is prone to throw at us…enjoy!
Feel free to see my free grounding meditation script.