Once you've established a regular meditation routine, it's reasonable to get curious about new meditation styles. In recent years, many meditators have turned to pyramid meditation due to its promise of a deeper level of transcendence. While you can practice this method at home, many people enjoy attending group meditations at pyramid meditation centers as well.
The energy of a group of people combined with the intentional structure of the building creates an ideal environment for deep connection.
Pyramid meditation is meditation beneath a pyramid structure. The base of the pyramid is said to store potent energy, and the top of the pyramid above your head allows for heightened connection with the cosmos. You can sit beneath a personal pyramid structure, use a small pyramid that sits on your head, or meditate at a pyramid meditation center. Regardless of your choice, it is important that the corners of the pyramid align perfectly with the north, south, east, and west coordinates.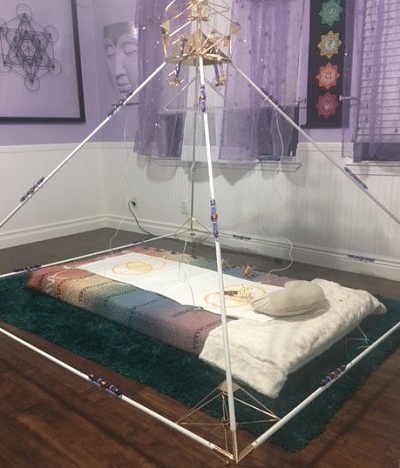 Since pyramid meditation centers are constructed with these requirements in mind, many see them as the best environment for practicing this meditation style. So let's dive right in. What are a few of the favorite pyramid meditation centers of avid practitioners of this style?
A few favorite pyramid meditation centers are Pyramid Valley International in India, Pyramid Yoga Center in Thailand, Las Pirámides in Guatemala. While the majority of pyramid meditation centers are located in India, I've added some variety to this list so you can see the options that are out there.
If you're like me, you may not live near one of these pyramid meditation centers. The list below will give you a glimpse into these facilities, so you can decide if you would like to try one out one day. Learning more about these centers will help you decide whether or not you would like to take this next step for your meditation practice.
3 Most Popular Pyramid Meditation Centers
Pyramid Valley International in Bengaluru, India
This center is a part of the Pyramid Societies Movement, which connects over 600 pyramid meditation centers around India. Pyramid Valley International welcomes visitors who wish to meditate in their beautiful pyramid center, take meditation classes, and attend workshops or seminars. The center even has accommodation on site for guests who wish to stay for longer periods.
Visitors of this center claim that it is a must for avid meditators. The pyramid is dark and calm, which is ideal for the ultimate meditation experience, and it has a shop as well as lunch offerings for guests.
There is no fee for entering this center, and the instructors give an introductory course before you begin meditating. This is for guests who need an idea of how to begin.
This center is a favorite of many meditators due to its popularity, pristine facilities, course offerings, and tranquil yet energetic environment. All of these components lend themselves to a profound meditation experience.
Find more information here.
Pyramid Yoga Center in Thailand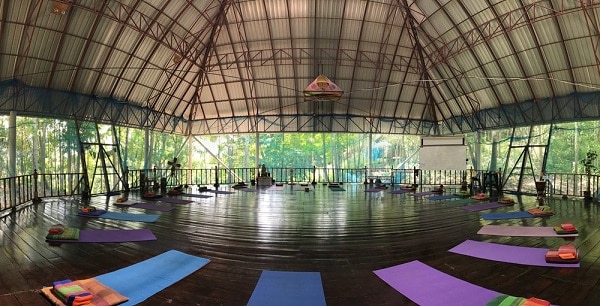 This center is located in the heart of the jungles of Thailand. It prides itself not only on meditation offerings, but also its yoga centers, yoga teacher training, temples, bungalows, accommodation, and restaurants for guests. Pyramid Yoga Center maintains a sustainable business to lower their carbon footprint, maintain clean air, and raise the consciousness of their environment.
Visitors claim this center is excellent not only for their offerings but also for the beautiful settings and views that it offers. It is a great place for connecting with like-minded people, fostering a sense of conscious community that can elevate the experience.
This center is a favorite due to its vast offerings, stunning surroundings, and tranquil retreat atmosphere it provides guests. Whether you visit for a few days or stay for several months for a teacher training, you are sure to feel your energy brighten and your mind clear over the course of your stay.
Find more information here.
Las Pirámides in Guatemala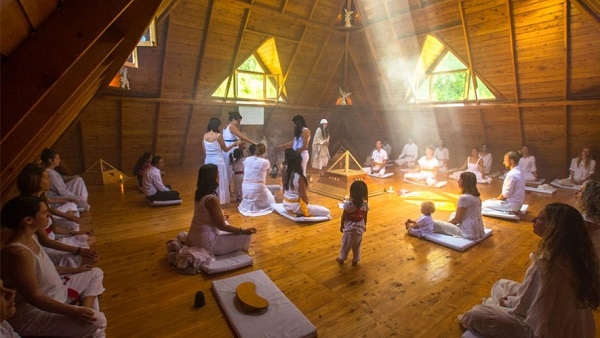 This center is located on Lake Atitlan in rural Guatemala. It offers temples, pyramid-shaped cabins for accommodation, a library, a plant garden, communal kitchen, sauna, and food for guests. This center offers daily classes as well as special courses that last anywhere from 21 days to three months.
Visitors of this center say that their courses are an amazing way to get to know yourself, and life, on a deeper level. They felt challenged to connect, grow, and change in completely new ways, and left feeling like what they had experienced was life-changing. The staff is kind, the energy of the courses is joyous, and the surroundings are beautiful. These are just a few of the many reasons many people that come for courses at this center choose to return for more.
This center is a favorite due to its overarching transformational quality. Along with the courses offered at Las Pirámides, the facility is involved with numerous social projects. This shows the staff's determination to not only transform the inner lives of guests but also transform the world around them.
Find more information here.
Advice to Get Started Practicing
If these centers have piqued your curiosity, and you'd like to get started with pyramid meditation, I would recommend starting by purchasing a personal meditation pyramid. This way, you can practice pyramid meditation in your home before trying it at a center.
You can buy a meditation pyramid online or in a specialty shop. Make sure you assemble the pyramid correctly and orient it facing the north.
Carving out this space for your meditation practice is not only great for the powerful benefits of the pyramid. It is also psychologically powerful to provide yourself with a separate space for deepening your meditation practice.
With regular meditation in your pyramid, you will quickly begin to feel the advantages of this practice. After some practice at home, you will be primed to get the most benefit possible out of visiting a pyramid meditation center.
Conclusion
While many pyramid meditation centers are located in India, you can find them all over the world. Practicing this type of meditation is sure to deepen your practice, and it can be done in the comfort of your own home.
The next time you consider taking a meditation retreat, remember these favorite pyramid meditation centers. Consider the offerings of each place and decide your needs for the ideal meditation environment, and you'll be sure to choose the perfect pyramid meditation center for you.