If you hope to find a type of meditation that promotes a deeper connection with the energy of the universe, Pyramid Meditation might be just what you are looking for.
There are many types of meditation, and each has its own range of benefits for the mind and body.
This particular meditation involves sitting beneath a pyramid for a powerful effect of energetic connection and inner peace. If you seek a meditation style that offers deeper relaxation, read on to discover the amazing benefits of this meditation practice.
What is Pyramid Meditation?
The name Pyramid Meditation likely provokes images of the pyramids in Egypt in your mind. The shape of these structures has a wide, square base, and their sides gradually come to meet at a central apex. These architectural wonders are said to align with the magnetic field of Earth, allowing for a powerful flow of energy. The Egyptians harnessed the powerful force of these structures, and the same concept sparked the popularity of this meditation.
It involves sitting for meditation beneath one of these mystical structures. You can purchase a personal pyramid, which should be around three times bigger than your body, and made of natural materials such as wood, marble, or copper. There are head-pyramids available with unique benefits, and you can also go to a Pyramid Center to access the energetic pull of the building's unique shape.
In the 1980s, Brahmarshi Patriji conducted research on this style of meditation. He concluded that pyramids amplify and transmit cosmic energy more powerfully than any other structure. This research led to the growth of the Pyramid Spiritual Societies Movement.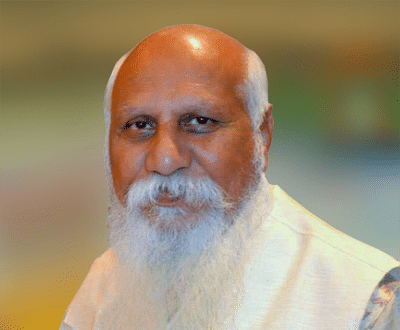 Today, meditation gatherings in carefully designed pyramid-shaped buildings are practiced all over the world. The use of individual copper pyramids is also growing in popularity, making this meditation style achievable within the comfort of your own home.
For optimum use, you must orient the pyramid to align perfectly with North, South, East, and West. This alignment aids in channeling the maximum amount of cosmic energy, and can help you receive the most benefit from this practice. You sit in the space below the top point of the pyramid, which is known as the King's Chamber. As the center of the pyramid, this location stores the most potent energy inside of the pyramid.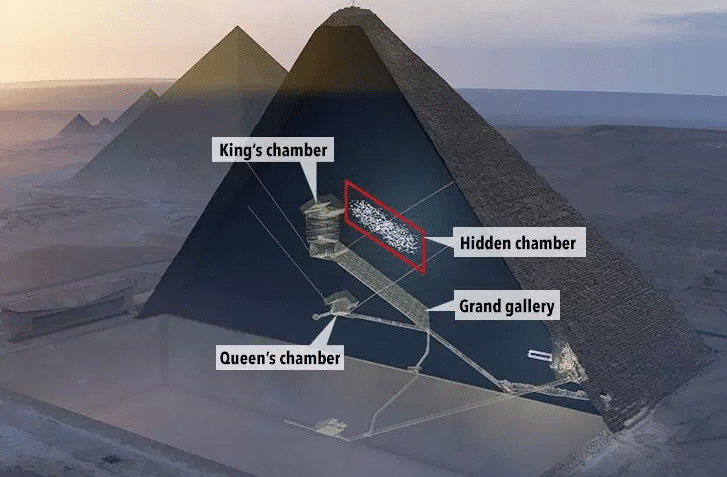 Individuals who regularly practice it report a more rapid rate of healing heightened senses, and decrease in blood pressure and other symptoms of stress. Connection at this heightened level can positively impact both the mind and body. Practitioners have many great reasons to continue the practice as a part of their regular routine.
How Does Pyramid Meditation Help?
The pyramid shape increases the benefits of meditation, but how? The shape of this structure helps unblock your pineal gland, otherwise known as the third eye. In meditation, this point of the body is the point most associated with connecting to the energy of the universe. If it becomes blocked, we have more difficulty finding inner peace and calm that meditation offers. So not only does the pyramid shape act as an antenna for gathering cosmic energy more effectively. It also allows your third eye to become unblocked in order to receive this energy through an open and flowing channel.
The apex of the pyramid gathers the energy of the Universe and directs it into your energetic field through your open third eye chakra. The result is a potent state of relaxation with numerous physical and mental benefits. Your body relaxes and your mind becomes clear, which allows for powerful change to take place.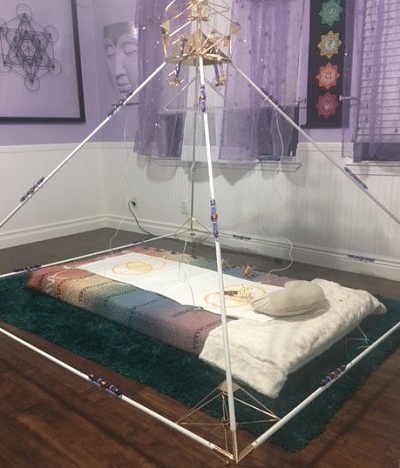 These pyramids also emit negative ions into the atmosphere surrounding your meditation space. Negative ions have a positive effect on the human body by allowing for increased oxygen intake. This ionization of the air around you allows for heightened benefits during your meditation practice.
I've mentioned a few of the advantages already, but let's explore a more complete list of ways this meditation style might benefit you.
Some of the reported benefits that are:
Rapid healing of wounds or broken bones
Heightened senses such as eyesight and hearing
Lowered blood pressure
Improved thyroid function, which helps balance hormone levels
Improved cognitive function in areas such as intelligence, emotional wellbeing, memory, and focus
Improved symptoms during the menstrual cycle
Headache relief
Decreased and healed acne
Lowered symptoms of arthritis
Better sleep and decreased symptoms of insomnia
Improved confidence
Clear mind and improved mental capabilities
Increased preservation of food placed inside the pyramid
More energy absorbed from water charged with the energy of the pyramid
Easier to achieve a state of calm during meditation
Easier to achieve out-of-body experience during meditation
Balanced and cleared chakras
Heightened intuition
Helps release self-imposed limitations
Boosts creativity
Helps you release toxins from your system
Why Pyramid Meditation?
If you are hesitant about trying it, I encourage you to lean into your curiosity. In addition to these unique benefits, there is something psychological about creating a separate space to practice meditation. The pyramid offers a sacred space to enter that feels removed from the stressors of daily life. This alone can help you psychologically separate from your daily life and access a meditative state with more ease.
How to Use the Meditation Pyramid
The pyramids are available in sizes ranging from large buildings to small enough to fit on your head. There are many ways to use these pyramids depending on the size you prefer. These pyramids can even offer benefits extending far past your meditation practice.
While this meditation practice centers can allow for a powerful meditation gathering, a hand-held pyramid can be used to increase the shelf life of produce or relieve headache symptoms. Let's take a look at the benefits of pyramid use during meditation, starting with the benefits of going to a Pyramid Center to meditate.
Pyramid Centers provide the benefits of:
Large meditation gatherings
Powerful energy amplification and transfer
Perfect alignment with the Earth's magnetic field
Quick access to a high-energy environment without the need to assemble a structure
Ability to meditate among a group of people, which can potentially heighten the potency of the energy surrounding you
Bigger Pyramid Structures
If you would like to access the benefits of your own personal pyramid structure, you can sit at the base of the pyramid while meditating. Unlike a Pyramid Center, the personal pyramid allows for more individual meditation practice. A personal pyramid structure can:
Allow you to create a sacred meditation space in the comfort of your own home
Allow you to sleep inside the pyramid for added benefit
Be used in a workspace or sleeping space for added benefit
Aid in long distance healing by placing a picture or name of a loved one inside the structure
Be transported to different locations, if you wish to meditate in a different room, outside, or even at a park or meditation center
Provide a visual reminder of your meditation practice to encourage a regular routine
Smaller Pyramid Structures
Trying a smaller meditation pyramid is a great place to start for this style of meditation. The smaller version of a meditation pyramid has a wide array of benefits due to its portable size. A small head-pyramid can:
Be worn on your head during meditation to activate a larger portion of your brain
Provide added relief for headaches and pain
Charge crystals, stones, or other objects you may use in your healing rituals
Energize water placed beneath the pyramid for added energy upon consumption
Increase the preservation of produce placed beneath the pyramid
Be easily transported to any location
Where to Buy a Meditation Pyramid
There are plenty of specialized shops for purchasing it for personal use. However, if you do not have access to these shops, there are plenty of other options available to you. You can easily purchase your own pyramid on Amazon. Due to Amazon's great customer support, fast delivery rates, and a wide range of product choices, it is a great place to find the best one for you.
Below I have provided three great products to consider when searching for your own pyramid. There are plenty of options out there, but these products are highly rated and can help you learn the qualities to look for.
HutSteine Meditation Pyramid
This product is a copper meditation pyramid. It has a six-foot base and is great for your individual meditation practice. It is a wider, shorter version of the personal meditation pyramids that are available today. This product comes with copper pipes that provide the pyramid framework, as well as corner connectors for securing the pyramid structure together.
People who use this pyramid report it is easily portable. They mention that their meditation practice feels much more powerful and connected. Assembly is simple and secure for a quick transition into your deeper, more connected meditation practice.
A few customers have reported that the pieces they received were bent or not well polished. Craftsmanship could potentially impact the ease of assembling and using this pyramid.
Nubian Copper Pyramid
This meditation pyramid is another great option to consider. It is more narrow and taller than the first option, with a four-foot wide base. It is an exact replica of the Nubian Pyramids of Egypt. This product currently has few reviews, but the ones listed are five stars and highly recommend the product to other customers.
One customer recommends building this pyramid from the ground up, to aid in any tricky assembling issues. Another customer mentioned that this pyramid allowed them to create a comfortable space for their indoor meditation practice.
This pyramid is great for individual meditation practice, and customers report very powerful meditations upon their first use.
Small Gold-Plated Copper Meditation Pyramid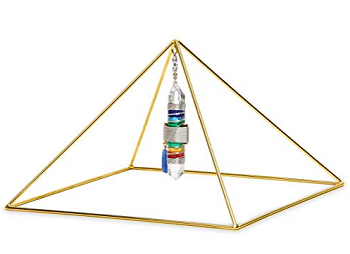 This option is great if you are looking for your first head-pyramid. It can be used on your head, for preserving fruit and other produce, or for energetically charging water or crystals. It is made of handcrafted 24K gold-plated copper and measures nine inches wide at the base.
Customers report that this product is beautiful and even great for hanging over your bed. It is said to be well-constructed and great for use in all its intended functions.
Considering this size meditation pyramid would be a great place to start in exploring the benefits of this practice.
How To Do a Pyramid Meditation
Here is a free guided Pyramid Meditation script that you can use whenever you want to.
This form of meditation can be very powerful, so you might need to increase the time you meditate in increments.
If you are new to meditating, try it for five to ten minutes, and build the length of your practice over time.
No matter your previous experience, the state of relaxation you achieve will the worth the effort. I encourage you to continue exploring this practice as a part of your regular meditation routine.
First, make sure your meditation pyramid is assembled properly, facing the north, east, or northeast. Make sure to place the structure in a comfortable and stable space. You can use a mat or cushion to make the ground more comfortable for sitting if necessary.
Make sure there are no gadgets inside the pyramid. If you use a phone or gadget to time your meditation, make sure it is located outside of the pyramid.
Get inside the pyramid, or place your head-pyramid on your head.
Make sure you are sitting right at the center of your pyramid, or its apex is right at the top of your head.
Sit with a straight spine, close your eyes, and begin to notice your breath.
Take long, slow breaths in through your nose. Exhale completely.
Feel a sense of calm, positive vibration gently entering your body. Relax into this feeling.
Notice as each part of your body relaxes, while you maintain a firm, upright posture.
Continue to breathe fully, focusing on your breath and the positive vibrations the pyramid is helping you channel.
Allow your crown to fully relax. Feel your third eye chakra open and fully receive the cosmic energy from the pyramid.
Continue like this for a few minutes: breathing, relaxing from your third eye all the way down your body, and remaining fully receptive to the pyramid's energy.
Feel a thread of energy connecting from your third eye, up through the pyramid, and out into the cosmos. This connection continues to become stronger, deeper, and more powerful.
Notice any colors, light, or warmth you feel. Take these last few moments to sit in awareness of the sensation your meditation has channeled.
Slowly begin to move your toes and fingers. Bat your eyelids open and sit another moment in stillness.
Feel a great sense of awareness of the shift that has occurred inside your being.
See how long you can carry this feeling with you, as you exit your pyramid and throughout your day.
Come back to this meditation daily and begin to feel the benefits of your new pyramid meditation practice.
Free PDF – Guided Pyramid Meditation Script
And here's a free pdf with this meditation script that you can easily download and share with your friends.
Free Guided Pyramid Meditation Script – PDF Version. Click Here to Download
Final Thoughts
All meditation styles have their own unique benefits, but this one allows for a profound connection to the cosmic energy. It helps you achieve expansion and openness within your own being.
Sitting beneath a pyramid structure can have its own powerful benefits, and help you access the typical benefits of meditation with greater ease.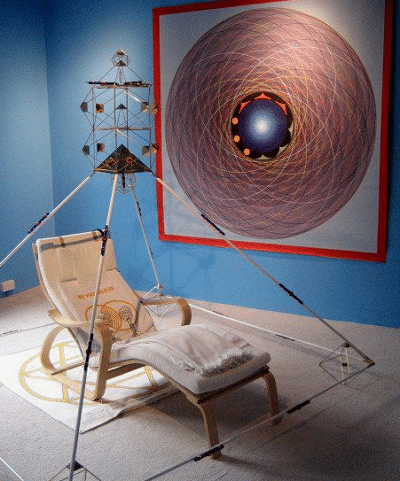 If you seek a meditation style that offers deep relaxation, strong connection to the energy of the universe, and increased depth of your own spiritual practice than this one might offer the solution you seek.
Any meditation practice grows and develops with time.
Why not get curious about Pyramid Meditation as a way to connect more fully within your practice, and within yourself.