With the Ram mantra, you will achieve material gains while being guided on the path towards being a truly perfect spiritual being. But which mantra should you use…? There are many ways to invoke the name of Rama in your meditation. Many powerful combinations of words are used to evoke Rama and his powers for your benefit. So let's take a look at them.
11 Free Printable Puja Guides to help you chant Ram Mantras
I'm so proud of these puja guides, so I couldn't be more excited to share them with you today!
As you may know by now, I like to write long and helpful posts for my readers. Sometimes, however, I get an idea to do something more, something even more useful.
That's why I decided to prepare something that people could have in hand while reciting mantras. Something printable, easy to read, and that could act as a puja guide.
That's how these guides were born.
Each guide has a big picture of a divinity that you need to devote to, a mantra, and a how-to guide to help you prepare yourself for reciting. It's in A4 format, and all you need to do is to print it.
These Ram mantra puja guides are completely free; all you need to do is to enter your email in the box below to unlock them.
[emaillocker]
Just click on one or all of the links below and the free PDF file will download immediately!
10th Puja Guide – Click Here to Get It
9th Puja Guide – Click Here to Get It
8th Puja Guide – Click Here to Get It
7th Puja Guide – Click Here to Get It
6th Puja Guide – Click Here to Get It
5th Puja Guide – Click Here to Get It
4th Puja Guide – Click Here to Get It
3rd Puja Guide – Click Here to Get It
2nd Puja Guide – Click Here to Get It
1st Puja Guide – Click Here to Get It
[/emaillocker]
What Is the Ram Mantra?
The Ram Mantra is a mantra dedicated to Lord Rama, one of the many forms of Vishnu. Lord Rama came to Earth to vanquish demons, and his mantra bestows self-esteem, will-power, mental fortitude and the ability to overcome vices to its practitioners.
When Sri Rama came to Earth he established the path of dharma, the path of correct action (more on that below). Chanting the mantra bestows amazing benefits of the body and mind – it promotes proper circulation through the body and clear focus of the mind.
The name of Rama acts as a divine guide on the path towards spiritual enlightenment. Yet Rama is benevolent and merciful, and understands the needs of humans; thus it also takes care of the material needs of the aspirant as well.
To draw this powerful spiritual energy from the mantra, it is important to try to understand it as fully as possible. To whom the mantra is dedicated; the many variations of the mantra; the proper way to chant it for greatest effect; and the many benefits you can hope to achieve through its use.
Let us delve into the Ram Mantra and its wonders, starting from the beginning.
Who Exactly Is Lord Rama
Rama, also known as Ramacandra, is the 7th incarnation of Vishnu, and one of the most powerful next to Krishna. He is considered the ideal man, both physically and mentally, and his marriage to Sita is considered the ideal of marital devotion and love.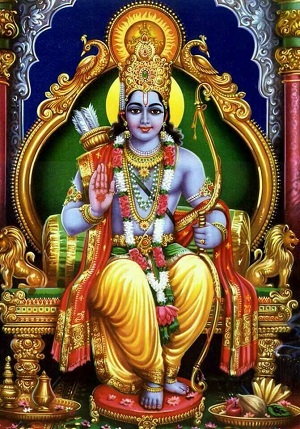 Lord Rama is best known for his adventure to slay the demon king Ravana, a multi-headed foe of considerable power. Ravana was the king of Lanka, today known as Sri Lanka, and was so fierce a demon that the gods bid Vishnu to intervene. Vishnu complied, appearing in a divine fire to King Dararatha, prince of the solar race. The king was presented with a pot of nectar, some of which he gave to Kausalya so she could birth the half-divine Rama.
Rama met Sita, the avatar of Lakshmi, in his early travels. The demon king Ravana eventually captured Sita, setting Rama off on an epic quest to save her and destroy Ravana. The story is told in the oldest Sanskrit epic, the Ramayana. His story demonstrates the value and virtue of the following dharma, fulfilling one's pious path in life.
Lord Rama is an influential and important figure in Hinduism. His representation of the spiritual, physical and mental ideal makes him a popular subject of devotion. Diwali, the festival of lights and one of the most well known Hindu celebrations, is a celebration of his coronation as king over his kingdom after finally destroying the evil Ravana.
How to Chant the Ram Mantra
There are over ten Ram mantras, each with their own way of saying them; their own meanings, their own strengths. It is important to consider each of them, and which is most appropriate for your life.
There is a recommended ceremony and schedule you should adhere to. This is regardless of the specific mantra you choose, so learn the following advice regardless:
Bathe or wash your hands and feet before you begin to chant. You can also bathe your entire body if you wish.
Always sit facing either the North or the East when chanting.
Devote your mind and spirit totally to Lord Rama and feel the connection with the universe.
Wearing white garments with a few pieces of the black or blue color (Rama blue) show our absolute devotion to the Rama.
Recite the mantras for 48 days with devotion. It is suggested to chant daily. If this is not possible, you can chant solely on Monday.
You don't need any offerings, but if you want to offer something to him, offer payasam, panchamirtham, panagam (jaggery, musk melon, and ginger), methi pulao.
The mantras should be chanted 9, 27, 54, 108, or 1,008 times, three times a day. Count the repetitions on the rudraksha neklace when doing so.
A list of Ram Mantras
"Raamaaya Raamabhadraaya Raamachandraaya Vedasey,
Raghunaathaaya Naathaaya Seethaayaah Pathaye Namaha"
This mantra evokes several of the names of Lord Sriram. It praises him as the most auspicious descendent of the Raghu clan. It proclaims him the most venerated person who can end suffering and promote happiness, and the husband of Mother Sita.
"Om Kleem Namo Bhagavathey Raamachandraaya sakalajana vashyakaraaya Swaaha"
This chant is intended to attract success and happiness. It includes the "klim" seed mantra or "bija" mantra. Seed mantras are powerful, single sound mantras whose vibrations are attuned to certain universal energies. The klim mantra is attuned to the law of attraction.
This Ram mantra uses the klim mantra in conjunction with praising Rama as a charismatic god who is able to promote peace and harmony. This combination of klim and Rama is a powerful mantra for attracting prosperity and happiness.
"Shri Rama Jaya Rama Kodhanda Rama"
This mantra combines both Rama and his bow, Kodhanda. Kodhanda was the bow Rama used to destroy the evil forces of Ravana. Evoking the two together symbolizes strength, invincibility, and the ability to overcome obstacles. Chanting this mantra promotes harmony and success while assuaging the practitioner of all fears.
"Sri Rama Jayam"
"Victory to Lord Rama" is the literal translation of this simple but powerful Rama mantra. It instils confidence, peace, and harmony in the chanter. It is suitable for most people, providing benefits for all aspects of life – our relationships, our jobs, our big and small challenges. Its simplicity has made it an incredibly popular chant, and it is particularly preferred for large gatherings.
"Om Dashrathaye Vidmahe Sita Vallabhaye Dhi-Mahi Tan No Ramah Prachodayat"
This is the Ram gayatri mantra. Like other gayatri mantras, it is used to call upon a deity – in this case, Rama – for protection. This particular mantra addresses Rama as the son of Dashrat, and the husband of Mother Sita.
Not only does it provide protection, but it is used to request clarity of thought and clear judgment from Lord Rama. It helps practitioners see the path of dharma in their everyday lives and make clear decisions.
"Heen Ram Heen Ram"
This is another simple mantra which can be used by those who are inexperienced in meditation or do not have a sufficient guide in their spiritual journey. It is a mantra that helps awaken spiritual awareness in the practitioner.
This mantra, like many other Ram mantras, helps align the chanter with the path of dharma or virtuous action. This was one of Rama's greatest contributions to mankind, and his tale is an epic exploration of the power and rewards of dharma.
"Clin Ram Clin Ram"
This Ram mantra is used to provide protection from negative energies. This may be more esoteric things like black magic, psychic attacks, and invisible entities, or the more mundane – the negative thoughts and feelings of other people, the depressive moods, attitudes and actions which might bring our own energy down.
Through the devoted reciting of this Ram mantra, you will create a barrier between you and negative forces that allows your own peace, harmony, and happiness to prosper.
"Fhat Ram Fhat"
This seeking an inner peace which brings about a positive change in their own behavior will benefit from this mantra. This simple Ram mantra brings harmony to the spirit, helping the chanter to be more sincere and honest as a person. It also brings clarity of thought, word, and action, setting the chanter on the path of dharma.
"Ramay Namah"
Another simple mantra intended to bring focus and clarity to the user. Here it is specifically purity of mind and word. This purity covers things like focus and articulation, but also purity in a moral sense – removing impure thoughts from the mind. It frees the chanter of negative, distracting or destructive thoughts, and helps them achieve a sense of inner peace and spirituality.
"Ya Devi Sarvabhuteshu Vidyarupena Samsthita,
Namastasyai Namastasyai Namastasyai Namo Namah."
"SaIutations to the God Rama who bestows upon me the fearlessness of life in the form of knowledge and intelligence". This chant grants the user inner peace and strength in times of great distress. It is an ideal mantra for those going through tough times at work, or in their relationships.
It will help to guide you on the right path to conflict resolution and standing up for yourself.
"Shri Ram Sharnam Mamah"
This mantra brings balance and strength to the body and mind. It promotes both physical and mental healing and can create a surge of bliss through the body.
Miraculous Ram Mantra Benefits
As you read in the previous section, there are many Ram mantras. Each has its own attributes, uses, and benefits. Yet, you may have also noticed there were certain trends and themes amongst them, chiefly the promotion of peace and harmony within the mind, body, and spirit of the practitioner.
So what are the overall benefits of using these Ram mantras? Here are some miraculous Ram mantra benefits for you to consider.
Promote self-esteem. One of the benefits of the enhancing of positive energies brought about by Ram mantras is an increased sense of self-worth. Those who are full of self-doubt or self-loathing will appreciate a remarkable boost in their self-esteem through the use of the Ram mantras.
Improved willpower. We face many temptations in our lives, big and small. Whether it's the big temptations to cheat, to steal, or to be unkind or the small temptations to eat something we're not supposed to, go back on a promise, or indulge, our willpower is sorely tested daily. Ram mantras help steel your willpower and better enable you to act righteously and virtuously.
Enhance other mantras. The Ram mantra often contains two words; Sri and Ram.

Sri is ying and Ram is yang – the male and female energies of the universe. Their combination employed with any mantra make its effects more profound.

Overcome fear and doubt. A consistent benefit of many of the Ram mantras listed above is helping the chanter to overcome fears and doubts in their lives. We are constantly plagued with doubts in everyday life. Doubts about job security, about our own capabilities and worth, about the choices we make. We fear making big decisions because we get too scared of the many possibilities, and doubt our instincts. The Ram mantra empowers us to overcome our fears and shed doubt from our minds. We become more assertive, more confident, and achieve more.
Better work performance. Clarity of thought and word are also common benefits of Ram mantras. This clarity and purity help us to better focus on tasks and challenges we're presented with, particularly in our places of work.

Instead of becoming flustered by problems, we analyze them clearly and approach solutions with steady rationality. We perform better under stress, and so attract the positive attention of employees, customers, or clients we engage with.

Better academic performance. Busy students working late nights often find it hard to focus. The stress associated with assignments can make it difficult to concentrate and recall vital information.

The clarity of thought and mind, combined with the increased confidence and self-esteem – not to mention the lessening doubts and fears – helps students to achieve higher academic results in their studies.

Better physical health. The Ram mantras bestow upon the chanter improved physical wellbeing. The body is less likely to suffer from disease or injury, and if it does, it heals faster than it otherwise would. The Ram mantra promotes better circulation through the body of various systems and functions, promoting health.
Better mental health. Purity and clarity of thought, promotion of harmony and inner peace – all of these benefits lead to an improvement of the mental wellbeing of the practitioner. Chanting Ram mantras frees us of negative mental states like depression, anxiety, and mood disorders.

It saves us from intrusive, unwelcome, or destructive thoughts – both those aimed at the destruction of others, and those aimed at the destruction of self.

Improved behavior. Do you worry you suffer from anger issues? Do you find yourself short-tempered? Easily agitated? Ram mantras help us to overcome these antisocial behaviors. The soothing peace and inner harmony brought about by Ram mantras help us to be better people. We are kinder, more compassionate, more patient, and more loving in our everyday lives.
Attract prosperity. Combining Ram mantras with the klim seed mantra can attract great wealth and prosperity to the practitioner. Rama is not just about the spiritual enlightenment of his followers; he also meets their material needs as well. Klim itself is a powerful agent of the law of attraction, but when combined with the mighty divine power of Rama, it becomes supercharged for unequaled results.
Overcome debt. Attracting wealth and prosperity can specifically help those who feel burdened by financial debts.

The Rama mantra will attract the wealth needed to free the practitioner of their debts, in turn freeing them from stress.

Protection from negative forces and energies. Lord Rama is a powerful god sent to destroy a demonic king; he is one of the ultimate protectors, and chanters of Ram mantras evoke this protection for themselves. We are all so surrounded by negativity these days; on the news, in the workplace, at home. Negativity from other people, negativity from ourselves. So much advertising relies on people feeling poorly about themselves so that something can be sold to them. Ram mantras free us from all of these; while it does not make these things disappear, it protects us from their deleterious effects. We become unmoved by the negative influences of others, living our own harmonious, peaceful lives as we so choose.
Increased harmony. Ram mantras bring us together. When we have inner peace and harmony, it is so much easier to be peaceful and harmonious with those around us. We form better connections with our loved ones, our families, our coworkers, and strangers.

Through Ram mantras we can form not just better, but deeper connections with others; connections that are more empathetic, compassionate and nurturing.
Final Thoughts
Lord Rama is a powerful, beloved god, the 7th avatar of Vishnu sent to destroy a demon king and bring dharma to the world. Today, we chant to Rama with Ram mantras, evoking his strength and virtue. Through these mantras, we seek his protection from evil forces, clarity of mind, inner peace, prosperity, and perhaps above all, harmony – both within ourselves, and the world around us.