A Vedic mantra dedicated to the goddess of knowledge and arts, Saraswati, is called Saraswati mantra. The mantra is believed to make us intelligent and knowledgeable in the fields of education, communication, and spiritual life.
These mantras are said to have been composed by Agastya, a revered sage. He was an influential Vedic scholar who also wrote a number of hymns for the Rigveda, along with his wife. The mantras are considered highly powerful. They are also relatively easier to learn when compared to other mantras.
The mantras are also a way to improve the way we talk as the goddess is associated with the power of speech. Individuals who seek to be good public speakers or excel in its field recite these mantras most ardently.
It is not a surprise that these mantras are highly recommended for anyone in the academic field. It is known to improve concentration and a better understanding of the subjects. These mantras are also widely used before the commencement of meetings, forums, and spiritual programs.
There are mantras meant for different types of purpose. These include mantras for achieving success and glory, gaining knowledge, excellence in academics and so on. I am very positive that everyone in Hinduism from students, artists, musicians to the most celebrated scientists recites the mantra for seeking knowledge and finding favor from her.
Allow me to point out that Saraswati mantra and Vidya mantra will be used interchangeably throughout this post. Vidya is another name of the goddess as you will see further on.
13 Free Printable Puja Guides to help you chant Saraswati Mantras
I'm so proud of these puja guides, so I couldn't be more excited to share them with you today!
As you may know by now, I like to write long and helpful posts for my readers. Sometimes, however, I get an idea to do something more, something even more useful.
That's why I decided to prepare something that people could have in hand while reciting mantras. Something printable, easy to read, and that could act as a puja guide.
That's how these guides were born.
Each guide has a big picture of a divinity that you need to devote to, a mantra, and a how-to guide to help you prepare yourself for reciting. It's in A4 format, and all you need to do is to print it.
These Saraswati mantra puja guides are completely free; all you need to do is to enter your email in the box below to unlock them.
[emaillocker]
Just click on one or all of the links below and the free PDF file will download immediately!
Saraswati Puranokta Mantra Chanting Guide – Click Here to Get It
Saraswati Beej Mantra Chanting Guide – Click Here to Get It
Saraswati Vandana Chanting Guide – Click Here to Get It
Saraswati Mantra for Knowledge Chanting Guide – Click Here to Get It
Saraswati Mantra for Improving Speech Chanting Guide – Click Here to Get It
Saraswati Mantra for Students Chanting Guide – Click Here to Get It
Saraswati Mantra for Glory Chanting Guide – Click Here to Get It
Saraswati Prayer for Wisdom Chanting Guide – Click Here to Get It
Most Common Saraswati Mantra Chanting Guide – Click Here to Get It
Saraswati Mantra for Illumination Chanting Guide – Click Here to Get It
Saraswati Gayatri Mantra Chanting Guide – Click Here to Get It
[/emaillocker]
Who Exactly is Devi Saraswati?
Saraswati is one of the goddess of the female trinity, Tridevi, of the Hindu pantheon. She was created by the Brahma as an embodiment of his knowledge. It was she who helped Brahma brings order to the chaotic cosmos.
The literal meaning of her name is said to be a combination of "pooling water" or "speech" and "she who possesses." The goddess is widely worshiped and prayed to by all followers of Hinduism all over the world.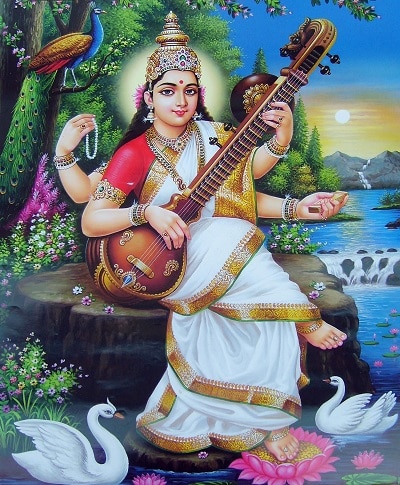 In Hinduism, she is regarded as the goddess of music, arts, knowledge, learning, and wisdom. The earliest mentions of the goddess Saraswati can be traced back to the Rigveda.
The goddess is portrayed as a beautiful serene woman in a white saree with four arms. She is usually seated near a pot of water or a flowing river, which references to her earliest known history as the river goddess.
The iconographies associated with her are typically white which are a symbol of purity, or Sattwa Guna, insight, knowledge and insight.
They include:
White lotus – It symbolizes truth, knowledge, and light. She is often shown sitting on it.
White Swan – A sacred bird in Hindu mythology, it symbolizes her power to differentiate between good and evil. It also signifies transcendence, spiritual perfection, and moksha.
Veena – This musical instrument represents arts and sciences and her ability to create harmony.
Mala – A garland made of crystals, it represents inner reflection, meditation, and spirituality.
The book – It represents all forms of learning as well as eternal, divine and universal knowledge.
Water pot – It represents the purifying power to distinguish between right and wrong and the clean from the unclean.
Peacock – It represents dance as well as splendor.
Other names of goddess Saraswati.
As is the norm of other gods of the Hindu pantheon, Saraswati is also known by a multitude of names. Some of them are Mahabhadra, Varaprada, Padmaaksh, Divyanga, etc. In total, there are more than 50 different names.
How to Chant Saraswati Mantra?
There are more than ten Saraswati mantras for different purposes. But before anything else, it is essential to know that each must be chanted in a specific manner.
However, the general rules to chant the mantras remain the same. These are:
Before we start chanting, it is essential to have a bath. If we are not able to have a bath, we need to wash our hands and feet at the very least.
Wearing mostly white and some yellow garments shows our absolute devotion to the goddess.
Having an image of the goddess Saraswati will help improve concentration.
Lighting incense sticks make the environment more conducive for the recitation.
Sit in the East or the North direction while chanting.
We must chant with full devotion to the goddess and feel the universal positive energy.
Chant the mantras daily for at least 48 days to reap maximum benefits.
Use a Sphatik mala or a Rudraksh mala every time we chant.
It is recommended to chant the mantra for 9, 27, 54, 108 or 1008 times on a daily basis.
Saraswati mantra benefits are best experienced during the auspicious Rohini, Mrigshira, and Chandravall periods.
Some of the most powerful are:
Saraswati Mantra for Students and Excellence in Academics
"Saraswati Namasthubhyam Varade Kamarupini
Vidhyarambam Karishyami Siddhir Bavathume Sadha."
Meaning: Prayer to the goddess Saraswati to enhance power and focus, to expand retention capacity of the mind.
Benefit: Reciting this Vidya mantra improves memory and allows us to develop concentration in our studies. Anyone who faces difficulty in remembering what was taught in the classroom should recite this mantra. With regular chanting, it will significantly improve our performance in school.
Saraswati Mantra for Improving Speech
"Vad Vad Vaagwaadinee Swaha."
Meaning: Vag Devi, grant me the power of speech.
Benefit: These mantras improve communication skills. Children or adults with speech impediments can particularly benefit from this mantra. This mantra is also very advantageous for people engaged in fields that require constant communication.
Saraswati Mantra for Knowledge
"Saraswati Mahabhage Vidye Kamalalochane
Vishwaroope Vishaalaakshi Vidyam dehi namosthute."
Meaning: Greeting to the goddess, bless me with the knowledge and proficiency in learning.
Benefit: When we chant this mantra regularly with faith and devotion, we acquire knowledge and understanding. Even those who have difficulties in learning will find their troubles slowly easing away.
Saraswati Vandana
"Yaa Kundendu tushaara haaradhavalaa, Yaa shubhravastraavritha
Yaa veenavara dandamanditakara, aa shwetha padmaasana
Yaa brahmaachyutha shankara, prabhritibhir Devaisadaa Vanditha
Saa Maam Paatu Saraswatee Bhagavatee Nihshesha jaadyaapahaa."
Meaning: May the Goddess protect me. She is as fair as the jasmine-colored moon. Those pure white garlands are reminiscent of the frosty dew drops. Adorned in all radiant white, with the veena on her beautiful arms, she sits on a throne of white lotus. She is encircled by the gods who respect her. Please relieve me of my tiredness, ignorance, and weariness.
Benefit: When we chant this mantra daily, we will be invigorated and refreshed. All the troubles and problems that we face in this world will seem lighter, and we will feel more contented. Sometimes we feel burdened, and there is no motivation to do our best. But chanting this mantra will eliminate all the lethargy and tiredness from our physical body.
Saraswati Beej Mantra
"Aum Shreem Bhreem Saraswathaye Namaha.
Aum Aing Saraswathye Namah."
Meaning: Greetings to the Goddess Saraswati.
Benefit: When we chant the Bhij mantra of Saraswati, it has the potential to increase our speech as well as intelligence.
Saraswati Puranokta Mantra
"Ya Devi Sarvabhuteshu Vidyarupena Samsthita.
Namastasyai Namastasyai Namastasyai Namo Namah."
Meaning: Salutations to the goddess who gives me the knowledge and understanding to be fearless in life.
Benefit: Chanting this mantra allows us to have inner peace and develop strength when we are in trouble. The goddess will enable us to become fearless and equipped with this; nothing in this world can make us feel weak.
Saraswati Gayatri Mantra
"Om Vageeshwaryae Vidmahe Vagwadeenyae Dhimahe Tannah Saraswati Prachodayat."
Meaning: Goddess of speech let me pray to you. Oh, wife of Lord Brahma, grant me intellect and allow goddess Vani to illuminate my mind.
Benefit: This mantra sharpens the minds of the students. It can calm our minds when we feel panic and stressed before writing exams or participating in an important event. As a result, we will feel confident and no longer experience stress or fear before an important event.
Saraswati Mantra for Illumination
"Maho, Arnah Saraswati Pracheyati Ketuna, Dhiyo Vishwa Virajati."
Meaning: Prayer to the goddess to eliminate fear from the heart. Allow the mind to be enlightened with intelligence and knowledge.
Benefit: Recitation of this Vidya mantra broadens and enlightens the minds of those who seek more profound knowledge of the world as well as the mental and spiritual. It also removes the fear of the unknown and new worldly experiences. Human being fears the unknown, but the goddess make eliminates this fear and makes us enlightened.
Most Common Saraswati Mantra
"Shuklaam Brahmvichaar
Saar Paramaadyaam Jagadvyaapineem Veennaa Pushtak
Dhaarinneebhamay Daam
Jaad Yaapandhkaaraapahaam
Haste Sfatik Maalikaam Vidhateem
Paramaasane Sansthitaam Vande Taam
Parameshwareem Bhagwateem Buddhi Pradaam Shaaradaam."
Meaning: I pray to the fair colored goddess, Saraswati. You are the first among all divine energy, who in the form of knowledge is present in the world. She holds a veena, the sphatik rosary and the Vedas in her hands. Another hand is raised in blessing for the devotees. She has the power to take away the ignorance and bring intelligence into my being.
Benefit: Reciting this mantra takes away the ignorance and foolishness that the world may burden us with.
Saraswati Prayer for Wisdom
"Paavakaa Nah Sarasvatii Vaajebhir-Vaajiniivatii |
Yajnyam Vassttu Dhiyaavasuh."
Meaning: Oh goddess Saraswati, you purify our intellect. Your strength grows with our sacrificial offerings. May I be rich in wisdom due to your presence within me.
Benefit: Chanting this mantra regularly makes us wiser as we deal with the complexities of life.
Acceptance of Prayer and Blessings
"Codayitrii Suunrtaanaam Cetantii Sumatiinaam |
Yajnyam Dadhe Sarasvatii."
Meaning: Goddess Saraswati, you inspire truth and reminds us to be good. You have accepted my offerings, and you hold it now.
Benefit: Reciting this mantra allows us to confess the goodness of the goddess and her blessings. We humbly accept all the blessings she has bestowed on our lives.
Making the Presence of Universal Wisdom Felt
"Maho Arnnah Sarasvatii Pra Cetayati Ketunaa |
Dhiyo Vishvaa Vi Raajati."
Meaning: The great wave of universal wisdom, Saraswati. You flow like a river, and you awaken our intellect. You shine as an embodiment of universal wisdom.
Benefit: When we recite this mantra, we acknowledge the universal wisdom of the goddess. We become a part of the universal energy.
Saraswati Mantra for Glory
"Saraswati Mahabage vidye kamalalochane
Vidyarupe vishalakshi vidya dehi namastute"
Meaning: I bow down and pray to goddess Saraswati for blessing me with the ability to learn and giving the best knowledge upon my life.
Benefit: This mantra seeks to please the goddess and receive blessings from her. It seeks to ask for glory and power that are in this world.
When to Chant Saraswati Mantra?
I shall assume that of all us understand that Hindu mantras are most effective when chanted during auspicious times. The best time to recite Devi Saraswati mantras is during Rohini, Mrigshira, Chandravalli nakshatras or the lunar mansion.
The nakshatras in Indian astronomy are ecliptic sectors. There are 28 (some sources mention only 27) sectors, and they relate to the most prominent asterisms. It starts with Ashvinī which lies in the Aries constellation and end with Abhijit in the constellation of Lyra.
The Mahabharata or the Hindu scripture credits the creation of nakshatras to Dakhsa, who was one of Lord Brahma's sons. The nakshatras are personified as Daksha's daughters who became the wives of Chandra or the moon god.
Let us discuss the auspicious times to chant this Vidya mantra in further detail:
Rohini
Sign or symbol: A cow drawn cart, a chariot, a banyan tree, and a temple.
Degree: In Indian zodiac, it is between 10 degrees to 23:20 degrees of Vrishabha Rasi. In western zodiac, it is between 6 degrees to 19:20 degrees of Gemini.
Meaning: Rohini is an extract from the word Rohan whose meaning translates, to bring or to rise to excellence.
The story behind it.
Rohini is the fourth of the nakshatras. It is called the red one in reference to its associated star Aldebaran, which is a giant red star in the constellation Taurus. It corresponds to the month of November on the solar calendar.
Hindu mythology describes her as the only one that the moon god intended to marry. Although he did end up marrying all the twenty-six sisters at the behest of their father, Rohini remained a favorite of the moon god, Chandra.
She was described as extraordinarily beautiful, an expert dancer, artistic and an expert in conjugal arts. Among all the sisters she was the only one who loved to indulge in beautiful dresses, jewelry, cosmetics and makeup. It is no wonder that the moon god fell entirely in love with her who spent most of his time with her.
Rohini is further divided into four quarters or padas.
The first quarter or pada is between 10 degrees and 13:20 Taurus which falls in Aries. It is ruled by the planet Mars. This pada is rich in spirituality, and extravagance.
The second quarter or pada lies between 13:20 and 16:40 degrees which fall in Taurus. It is ruled by the planet Venus and is the strongest pada in the entire zodiac and produces the best results from the mantras.
The third quarter or pada lies in between 16:40 and 20:00 degrees and falls in Gemini. It is ruled by the planet Mercury. This pada equates with the accumulation of wealth.
The fourth quarter or pada is between 20:00 degrees and 23:20 degrees and falls in the zodiac of Cancer. It is ruled by the moon. This pada equates with the undesirable qualities of Rohini such as narrow-mindedness, materialistic hoarding and being possessive.
Explanation
The lunar energies of the planet Venus and the moon saturate Rohini with the feminine energy. Rohini is the most fruitful, feminine and nurturing among all the nakshatras. It is also the most productive as well as receptive. During this period, garments of red, white and pastel shades with floral designs are most favorable.
Activities which will flourish and experience untold abundance during this period include:
Trading and business.
Agriculture activities of sowing or planting fields.
Constructing houses.
Investing in financial dealings.
Getting married.
Improved sexual life and romance.
Buying jewelry and clothes for women.
Investing in automobiles.
Self-improvement and physical rejuvenation.
Professions and industries that will benefit during this nakshatra are:
Agriculture.
Artists and musicians.
Any industry that deals with liquids.

Herbalists and botanists.

Banks and financial institutions.
Tourism and hospitality sector.
Fashion and garment industry.
Entertainment.
Automobile and textile industry.
Mrigshira
Sign or symbol: A deer's head.
Degree: In Indian Zodiac, it lies between 23:20 degrees Vrishabha and 6:40 degrees Mithuna. In western Zodiac it lies between 19:20 degrees of Gemini and 2:40 degree Cancer.
Meaning: It comes from the words Mrig which means deer and shira which stands for a head. So it literally means a deer's head.
The story behind it.
Mrigshira is the fifth of the nakshatras. It corresponds to the constellation of Orion. She is one of the daughters of Daksha and one of the twenty-seven wives of the moon god, Chandra. It corresponds to the month of December on the solar calendar.
This nakshatra is divided into four pada or quarters.
The first quarter or pada lies between 23:20 degrees and 26:40 degrees and falls in the zodiac of Leo. It is ruled by the Sun. It relates to the unyielding nature of Mrigshira and the ability to express through art.
The second quarter or pada lies between 26:40 degrees and 30:00 degrees and falls in the zodiac of Virgo. It is ruled by the planet Mercury. This pada relates to the humorous and practical side of the nakshatra.
The third quarter or pada is between 00:00 degrees and 3:20 and falls in the Libra. It is ruled by the planet Venus. This pada relates to being sociable and pursuing the mental side of relationships.
The fourth quarter or pada is 3:20 degrees and 6:40 degrees and falls in the zodiac of Scorpio. It is ruled by the planet Mars. This pada relates to the negative aspect of the nakshatra such as being argumentative, jumping to conclusions and being suspicious.
Explanation
Mars being the primary ruler of this nakshatra, it provides the martian energy. It also forms a bridge between the zodiacs Gemini and Taurus and is the only nakshatra which lies equally on both. Therefore, there is a strong desire to balance the energy between air and the earth.
It has the tremendous artistic ability to express as well as an unquenchable thirst for knowledge. Materialistic gains can be witnessed in this nakshatra as well. It is advised to wear garments of red, white, green as well as bright colors with sparkles and glitters.
Activities that will be very fruitful and witness a lot of growth during this period are:
Traveling and exploring nature.
Sightseeing.
Engaging in sales activities.
Changing or adopting a new name.
Advertising.
Socializing with others.
Moving to a new place or changing residences.
Start an education on communication.
Sexual activity.
Physical rejuvenation.
Performing religious activities like rituals.
Setting up or constructing altars.
Communication.
Artistic works such as painting, dancing, etc.
Professions and industries that will benefit during this nakshatra are:
Writers of all kinds – poets, novelists and so on.
Painters, musicians, dancers, and singers.
Gemstone dealers and jewelers.
Real estate and Advertisers.
Landscapers and designers in various categories.
Astrologers.
Physicians and teachers.
Chandravalli.
Another auspicious time to chant the Saraswati mantra is during Chandravalli. The story behind this figure is, to say the least. I, for one, think the story and the records are very ambiguous as well as mysterious.
Unlike the nakshatras of Rohini and Mrigshira, Chandravalli has no sign or symbol or degree in astrology. She was more of a physical entity in the ancient world during Krishna.
Some texts describe her as a beautiful and devoted gopi or a milkmaid. She was one of the many gopis that Krishna loved while on earth. There are sources that describe her as the sister of Radha, the chief consort of Lord Krishna. However, their affections for Krishna put them in very conflicting situations. In many places, Chandravalli, whose name means a multitude of moons, is portrayed as a stiff rival of Radha. This of course, is a constant source of grief to Radha, but something that Krishna finds intriguing.
However, she serves merely as a background to the epic love story of Krishna and Radha. She is portrayed as a submissive woman who charmed Krishna and enraged Radha in the process. In all the sources, she is depicted as the woman that always lost to Radha, whether in terms of talent, beauty and ultimately winning the love of Krishna.
In yet another source, Chandravalli is the flute that Lord Krishna plays. The flute is described as the physical embodiment of the intense love between Krishna and Radha. The flute was a gift from the chief god, Brahma. The music that flowed from the Chandravalli was so magical that all the wild animals and birds danced to it whenever Krishna played it. It was also very enchanting and drew all the milkmaids or the gopis to throng around Krishna.
Whichever version we choose to believe, it is an auspicious time to chant mantras to the goddess Saraswati.
13 Miraculous Saraswati Mantra Benefits
Communication skills.
Recitation of Vidya mantras dramatically improves the way we speak and talk. The mantras are especially beneficial if we have to involve in a lot of public speaking and other platforms that require talking.

It can be very helpful for someone in the fields of hospitality, entertainment or media.

Academic Excellence.
Goddess Saraswati is the embodiment of knowledge. When we recite the mantras in her honor regularly, we begin to excel in studies whether in school or college or at the university level. Ardently reciting the mantras will significantly improve our academic performance.

The students themselves can recite the mantras, but if he or she is not in a position to do it, the parents can recite the mantras for their children.

Improved Concentration.
Reciting these mantras will improve our concentration especially in the field of academics. It allows us to have more retention power and enhances our ability to focus. It can be particularly beneficial for students or anyone engaged in the field of academics.
Speech impediments.
As the goddess of speech or vach, Devi Saraswati helps our children and adults with speech impediments and impairments. When we recite the mantras, it dramatically improves the ability to overcome the impairment.
Renewed physical strength.
Chanting the mantras to the goddess Saraswati regularly will get rid of physical tiredness and lethargic feelings. Along with mental knowledge and intelligence, our physical bodies get invigorated and refreshed.

As a result, we feel more renewed and energetic to perform better in various aspects of life. Whenever we feel a lack of energy and the beginning of boredom, we must chant these powerful mantras to feel empowered and vitalized.

Wealth and finances.
When we chant mantras daily, we will experience an increase in our financial status. It may be in terms of a promotion at work, inheriting from a relative, or making a profit in business. The mantras allow us to find favor with the goddess and she will improve our financial status to a great degree.
Inner peace and strength.
When we face a challenging situation or get frustrated, chanting Saraswati mantra will make us feel stronger. The goddess makes us fearless of any obstacle that might disturb our lives.

As a result of this, we will develop inner peace and strength over time. We will feel confident and more relaxed as well.

Professional growth.
Whether we are engaged in the field of science, agriculture, trading, business, beauty or fashion, reciting them regularly will allow us to shine in our respective field of profession.
Increased knowledge.
Where there is knowledge, there is no place for ignorance. Regular chanting of the mantras will also sharpen our minds and help us develop our understanding in various fields. And knowledge does not come from engaging in academics alone. We can harness knowledge wherever we are in life, whether at work, in the playground, meeting with colleagues and so on.

We develop a keen awareness of general affairs. We become keener and build mastery in our fields of expertise and profession.

Overcoming panic.
A lot of us feel incredibly stressed and panic when there is an important event coming up. It can be such event as public speaking, first job interview, meeting the in-laws, auditions, and exams, etc.

In this situation, chanting Saraswati mantra will help us overcome panic and stress. The goddess will help us remain calm, and we will be confident to execute the task at hand.

Abundance in wisdom.
We all agree that there is a vast difference between knowledge and wisdom. Knowledge can be acquired, but wisdom comes from the gods and goddesses. As the goddess of wisdom, chanting them will fill our lives with abundance in wisdom. It will help us make better career decisions, and make better life choices.

It enables us to be wise in worldly affairs as well as spiritual growth. Chanting the mantras also allows the goddess to protect our wisdom to prevent us from falling prey to corrupt and deviant ways.

Excellence in arts.
Any activity that involves and produces acoustic, visual or physical performance can be considered arts. As the patron goddess of music and arts, Saraswati protects and polishes the artistic ability of her devotees. When we chant the mantras in her honor, she allows us to flourish in the field of arts. Whether it is painting, dancing, music or writing, the mantras are beneficial for a person engaged in arts.

Doing the puja also protects the knowledge and the sanctity of artistic abilities. The goddess has been protecting the arts and the medium through the ages.

Spiritual illumination.
Fear of the unknown, fear of the future and new experiences slowly dies away. They make our mind free to grow and seek spiritual growth as a result of which we become enlightened and achieve spiritual illumination.
Saraswati Mantra on Youtube
Here's a video from Youtube that will help you chant this mantra:
[embedyt] https://www.youtube.com/watch?v=dOGabG1UnnM[/embedyt]
(Very Popular Video)
Final Thoughts
By now, I am confident that we realize how vital the Saraswati mantra is in our lives. It is not just a mere collection of ancient texts that are mindlessly spoken. When we really put our hearts and faith in the goddess and recite the mantras regularly, it can transform our lives, the lives of our children and our family.