Shabar mantra is one that has been developed using the local dialects of India. Unlike a traditional Sanskrit mantra, we chant it for its inherent meaning.
The mantra originated from one of the principal deities, Lord Shiva, who passed on his knowledge to the goddess Parvati. Later on, during the 11th and 12th century, Guru Gorakhnath introduced the mantra to the masses after realizing its power. It is unique in that it follows no code, rituals, styles or grammar.
These mantras are considered even more powerful and effective than Vedic mantras. Each of the Vedic mantras is believed to have a Keelan or a lock. This lock restrains the power of the mantras. Only after chanting a certain required number of mantras we can unlock the potential. On the other hand, shabar mantras do not need a Keelan to be opened. Therefore, the mantra is as potent when it is first spoken. As a result of this, we will experience the desired results within a brief time.
While chanting this mantra, we will be filled by a deep sinking feeling in our heart. This signifies the enormous vibrational energy of the mantra and is not to be taken as a negative. It is also symbolic of the presence of the god of that mantra over our life.
These types of mantras available today are said to have been written by Guru Gorakhnath. While the meaning of some mantras can be easily translated and understood, others may be difficult for us to understand, and some do not carry any meaning at all.
I must point out that there are different types of these mantras available. They can range from mantras for resolving conflicts, peace, and success, bounding an adversary, healing poisonous bites, finance, love and many more. Among all the mantras, the most popular ones are ones for love and for money.
These mantras are predominantly practiced by the followers and tantriks who follow Guru Gorakhnath. However, they may also be practiced by anyone who has faith, devotion and positive intentions.
4 Free Printable Puja Guides
I'm so proud of these puja guides, so I couldn't be more excited to share them with you today!
As you may know by now, I like to write long and helpful posts for my readers. Sometimes, however, I get an idea to do something more, something even more useful.
That's why I decided to prepare something that people could have in hand while reciting mantras. Something printable, easy to read, and that could act as a puja guide.
That's how these guides were born.
Each guide has a big picture of a divinity that you need to devote to, a mantra, and a how-to guide to help you prepare yourself for reciting. It's in A4 format, and all you need to do is to print it.
These Shabar Mantra puja guides are completely free; all you need to do is to enter your email in the box below to unlock them.
[emaillocker]
Just click on one or all of the links below and the free PDF file will download immediately!
Shabar Maha Mantra for a Better Luck Puja Guide – Click Here to Get It
Shabar Mantra for Love Puja Guide – Click Here to Get It
Shabar Mantra for Money Puja Guide – Click Here to Get It
Hanuman Mantra for Protection Puja Guide – Click Here to Get It
[/emaillocker]
Who is Lord Shiva and how Exactly is he Connected with this Mantra?
Lord Shiva or Mahadeva, is one of the gods of Hindu trinity called Trimurti. He holds a significant place in Hinduism for his ability to destroy as well as create. He is also called 'the destroyer' within the trinity.
We revere him for his powers to destroy imperfections such as greed and lust in the universe. He destroys the world so that a new creation can be allowed to flourish. He represents a complex character that is often full of passion, benevolence and acts as the protector. Other times, he is depicted as an ascetic, who washes his hands clean of pleasure and indulgence. During these times, he concentrates on meditation and is, therefore, the patron god of meditation, and yoga.
His union with his wife, Parvati is regarded as the perfect marriage. His wife brought balance and moderation in his nature. His marriage to her allowed him to be a lover as well as an ascetic. It is the reason why couples pray to him for a great married life.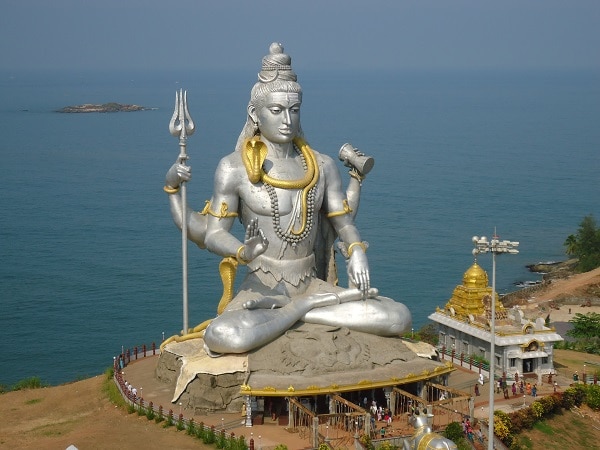 The highest form of Shiva is said to be limitless and formless. He is often represented as a man with blue skin and a cobra on his neck. The blue skin is symbolic of him swallowing poison to save the universe. The cobra being of the deadliest serpents, it represents Shiva's absolute power.
Other iconography includes:
Three horizontal lines or the vibhuti on his forehead, which conceals his third eye. The third eye is the source of his power which once consumed the love god, as a consequence of distracting Shiva while in worship.
The trishul or the trident represents the trinity of Brahma, Vishnu, and Shiva.
The crescent moon is a symbol of his ability to control time.
The matted hair is where the Ganges flows from.
The tiger skin he sits on represents his victory over lust and power.
He is said to have practiced meditation for years at a stretch. His connection to this mantra has a fascinating story attached to it. During the ancient times, the maharishis or ancients sages used to meditate in the Himalayas which were then covered in dense forests. During their long epic spells of meditation, their deep desire for moksha frightened the asuras in the area. Asuras are divine beings or demigods some of which were benevolent and others malevolent.
To prevent the sages from attaining moksha, the asuras used to disturb them and sometimes attacked them while deep in meditation. The sages prayed to Shiva for help. Being a practitioner of meditation himself, he understood their problem. He then composed the mantras for them. It is said that the first mantra was revealed to his wife, Parvati after he realized the mantra's benefits.
The earliest mantras were translated by Guru Gorakhnath who had attained Samadhi or the ultimate union with god. Because of their initial intended purpose, these mantras were meant to work fast with precision on the target.
How to Chant Shabar Mantra?
There are different types of mantras involving different deities, for example: Vashikaran, Laxmi, Hanuman, Saundarya, Siddha and Gorakhnath Siddha Shabar Mantra among others. However, because it requires invoking of god's name and has immediate results, we must do it with faith and utmost care.
Typically, it can be chanted by both females and males.
Shabar Mantra for Love
Love mantras can be beneficial to increase attraction, increase chances of falling in love, and improve relationships and winning back our lost love. It may be chanted to vibrate positive energy from family and friends. It can also work to dispel negativity from jealous individuals as well.
This one should never be chanted to hurt or get back at someone. It was not created for this purpose.
To reap the optimum benefits, we must chant with a positive mindset, visualizing the love and harvesting all the positive energy.
Some of the powerful mantras that we can chant to improve our love life are:
"Om Nahom Kat Vikat Ghor Rupini (name of the beloved person) Vashmanay Swaha."
"Om Shri Ganesham Vidhnesham Vivahaharthe Te Namah."
"Om Shriganesham Vidhnesham Vivahaharthe Te Namah."
Shabar Mantra for Love on Youtube
Below you can find a Youtube video that can help you chant it.
[embedyt] https://www.youtube.com/watch?time_continue=2&v=EuqLVXSG3Xw[/embedyt]
(A great video)
Shabar Maha Mantra for a Better Luck
Chanting mantras is a powerful way to fulfill our desires and enhance our luck. There is a specific way to chant these mantras.
While chanting, try to do so during the same time of the day and in the same place.
The solar and the lunar eclipse have a significant influence on our luck. Therefore, we must try to chant more during this auspicious time.
Chant the mantras in their original form and text. Missing out a word or changing them will reduce their efficacy.
Chant the maha mantra seven times in the morning while facing the sun.
Whenever we start something new, it helps to chant the mantra.
"Chun chunyeh mantra, dekhojantar, badahayadhantar
Bole aswatar, achahaiyehjantar,
Uchalesamundar, kaabilyehtantar
Phike sab bandar, jebihayebhantar
Sabhi se baltar, ramujkamantar,
Kapsahaisundar, tale jodukh-rog,
Bhage who nahibhog
Jamayamahajog, dekhiyejitamlok
Badatamasa, machayakhasa
Dhulaurdhamasa, bajatayehtasa
Marujoekkaal, dhanegiaisitaal
Woaagiyabetaalhaiaurkhateryarhai.
Badaja hanuman, karimsuleman
Hakim jilukmaanaurjinparasthan
Jaadukahaphtkhan, devo majardaan
Jangikohestaan, waise o mastan
Sab vash ho jaye, sab gam khojaye
Dilsukhhanjaye, sab gum hattjaye
Aaojidekhoji, hasoaur nacho.
Aisohai Sancho, nankahetamaso,
Sajjnesadhyonajaryahafekho,
Sukhsampati ne suntti so koi dekho.
Guru ki Shakti meri bhakti,
Phuro mantra eshwarvacha
Satya guru ka mantra sacha."
Hanuman Shabar Mantra for Protection
Chanting this powerful mantra will protect us as well as our family from negative influences. It may include things such as black magic, evil eye or enemies.
While chanting these mantras, remember to observe the following to maximize the benefits.
Start on a Tuesday or a Saturday.
Observe a fast on Tuesdays and eat food only once.
Every Tuesday or a Saturday, offer fruits, coconut, two or seven ladoos, a wooden chappal and clothes to Hanuman. It may be to his idol or a picture.
Distribute chana and jaggery to the children.
It is vital that the chant is repeated 1080 times every day for three months to reap results.
Put on red clothes and apply red chandantilak on the forehead.
"Ulta biir
Bajrang ka pao kar
Ninsamkavtalkhaye
Bara kosa adhad
Sam terakos
Pichadasam
Aanpohoch re ulta
Biirbajrang ka pao
Jahahaivaha se laao
Is kaya pindke
Balakunavnadi se
Bahatarkothadi se
Rom rom se
Cham cham se
Gudgud se
Pakadkelao
Meri bhakti, guru ki Shakta
Furo mantra eshwarvancha."
Hanuman Shabar Mantra on Youtube
Below you can find a Youtube video that can help you chant Hanuman Shabar Mantra for protection.
[embedyt] https://www.youtube.com/watch?v=_FJJF331Qqk[/embedyt]
(Lord Hanuman Mantra)
Shabar Mantra for Money
Chanting Dhan Lakshmi mantras are effective ways to make our finances flourishing. It can generate more income and profits in business as well as other works. It also helps get rid of procrastination and develop an active, fruitful life.
To start chanting it, we need to follow these guidelines:
Commence on an auspicious day or a Wednesday before sunrise.
Light an incense stick as well as an oil lamp and place it in front of the goddess Mahalakshmi.
Chant four mala of the Dhan Lakshmi Shabar using Sphatik mala.
Chant it for twenty-one days to reap the results.
After the sadhana, it is essential to chant it 108 times every day.
"Om Shreem Hreem Kleem Tribhuvan Palini Lakshmi Mam Daridrayam Nashay.
Nashay Prachuram Dhanam Me Dehi Kleen Hreem Shreem Om."
Shabar Mantra for Money on Youtube
Below you can find a Youtube video that can help you chant it.
[embedyt] https://www.youtube.com/watch?v=k-ZLRjEJW10[/embedyt]
15 Miraculous Shabar Mantra Benefits
Shabar mantras benefit manifest from the moment they are spoken. The benefits can a meaningful impact on every area of life.
1. Peace.
In most cases, negativity stems from the heart and mind. These mantras help us to move away from such emotions and thoughts. It allows us to get rid of feelings such as anger and lust and provides peace.
2. Free from worries.
All daily affairs can be the source of constant worries. It can have an adverse effect on life. The mantras help a practitioner to slowly ease away from the concerns and instead focus on its benefits.
3. Protection from negative influences.
Regular practice will remove all negative forces such as evil eye and black magic. Unknown to us, there could be these evil force lurking.
However, the mantra will protect us as well as our family.
4. Abundance in finances.
Whenever we have trouble or difficulty in achieving financial freedom, these mantras can unlock the riches for us. To have more income, generate more gain and profits, we need to chant it regularly.
5. Love.
It has a potent influence when it comes to love. They can influence our beloved to fall in love with us, make us more attractive and may even bring back our lost love. It can also influence our parents and family to allow us to have a love marriage instead of an arranged one. It can keep the prying eyes of enemies and neighbors away.
6. Relationships.
These mantras can allow our relationship to be better. Where there are misunderstanding and lack of love, it can restore love in relationships. A broken relationship in a marriage will be restored. Couples will regain love and happiness in their marriage.
7. Success.
When we chant the mantras with sincere faith, our lives will be transformed, and we will have success in every area of life.
Because our desires and wishes will be fulfilled, we will have respect and prosperity wherever we are in life.
8. Warding off the effects of other mantras.
When the mantras are chanted regularly, it can keep us safe from the influences of other mantras that may interfere with it. While chanting these, a peacock feather is to be incorporated.
9. Protection against poison.
When we are exposed to poisonous creatures such as snakes and scorpions, this mantra can be especially beneficial. The mantras can allow protection against all harmful and toxic elements.
10. Protection from natural elements.
The powerful mantras can also work as protection from natural disasters such as floods, hailstorms, and fires. While in a situation like these, it is important to chant the mantra once with full concentration.
11. Healing from diseases.
When we are suffering from physical ailments such as fever, the mantra can be chanted to experience healing from it. Along with the mantra, some traditional remedies are also incorporated.
12. Protection while sleeping.
As we sleep peacefully, someone may be planning to burglarize our home. Chanting the mantra before we sleep will keep us protected from these unscrupulous elements as well as other harmful sources.
13. Positive energy.
As they release their power from the first go, the mantras can fill our lives with energy.
We will feel empowered and recharged to take on the various challenges in life. There will be an inner spark of energy and it will influence a change in us.
14. Freedom from worldly desires.
As a source of spiritual energy, when we concentrate on these mantras, we will no longer have the urge for physical and worldly desires. Instead, we will be transformed and seek spiritual fulfillment and ultimately, moksha.
15. Divine protection.
These mantras allow our lives to be guided and protected by Shiva himself. So we will have divine protection as long as you chant these mantras.
Final Thoughts
Shabar mantras are an excellent and effective way to achieve, protect and flourish. They can be especially advantageous when all of us are pressed for time.
Have a sincere heart, and full faith in its power and they will change our lives in ways we did not imagine. And help yourself with rudraksha mala while chanting.