Sudarshana Maha Mantra is a powerful mantra which helps us to acquire all-around success and Karya siddhi. It is the most effective way to please Lord Sudarshana. It captured my attention when I've first heard of it, so I said to myself that I need to share it!
This mantra will give you a divine aura to both your mental and physical aspects. It will also help you to progress spiritually and lead you to inner peace and serenity. You will get relieved of ill luck, financial crisis, health issues, spiritual dissatisfaction etc. if you chant this mantra regularly.
A Free Printable Puja Guide to help you chant Sudarshana Maha Mantra
I'm so proud of this puja guide, so I couldn't be more excited to share it with you today!
As you may know by now, I like to write long and helpful posts for my readers. Sometimes, however, I get an idea to do something more, something even more useful.
That's why I decided to prepare something that people could have in hand while reciting mantras. Something printable, easy to read, and that could act as a puja guide.
That's how these guides were born.
Each guide has a big picture of a divinity that you need to devote to, a mantra, and a how-to guide to help you prepare yourself for reciting. It's in A4 format, and all you need to do is to print it.
This Sudarshana Maha Mantra puja guide is completely free; all you need to do is to enter your email in the box below to unlock it.
[emaillocker]
Just click on one or all of the links below and the free PDF file will download immediately!
Sudarshana Maha Mantra Chanting Guide – Click Here to Get It
[/emaillocker]
What is Sudarshana Maha Mantra?
This Sanskrit word 'Sudarshana' is a combination of two words. 'Su' means divine, 'Darshana' means vision so, the word Sudarshana translates to 'Divine Vision'.
The Sudarshana Maha Mantra is an auspicious and potent mantra that will help you to de-clutter your life from any unnecessary elements that may have been hindering your progress. Sudarshana mantra benefits are not only just a religious aspect, but they heal us physically, mentally and spiritually.
You need to recite is as follows:
"Om Shreem Hreem Kleem
Krishnaaya Govindaaya
Gopeejana Vallabhaya
Paraya Param Purushaaya Paramathman
Para Karma Manthtra Yanthra Tanthra
Oushadha Visha Aabichara Astra Shastra
Samhara Samhara Mrithiyur Mochaya Mochaya
Om Namo Bhagavathey
Maha Sudarshanaya
Om Preem Reem Rum
Deepthrey Jwala Pareethaya
Sarwa Digkchobhanakaraye Karaeya
Hum Phat Para Bhrahmaney
Param Jyothish Swaha
Om Namo Bhagavathey Sudarshanaya
Om Namo Bhagvathey Maha Sudarshanaya
Maha Chakraya Maha Jwaalaya
Sarva Roga Prashamanaya
Karma Bandha Vimochanaya
Paadaathimastha Paryanthan
Vaada Janitha Rogaan Pitha
Janitha Rogaan Shlesma Janitha Rogaan
Daathusankalikoth Bhava
Naanaa Vikaara Rogaan
Nasaya Nasaya
Prasamaya Prasamaya"
Meaning of the Sudarshana Maha Mantra in English
Here's a quick translation of this mantra.
" O Lord Krishna, you are the controller of this entire universe, the senses. You are the supreme soul and the beloved one among the gopees. Please Param aatma, protect me from all evils, acts of others, evil mantra and weapons. O Lord, who has the entire world on his fingertips, who holds the mighty Sudarshana chakra and wards off evil from all eight directions, I surrender myself to thee."
How and When to Chant Sudarshana Maha Mantra
This Sudarshana Maha Mantra can be initiated on birth(nakshatra) days and Ekadashi tithi days. It is very beneficial if you can recite it, but with busy work schedules these days, it may not be possible, that'y why you can also recite it on Saturdays and Wednesdays, which are the most favorable days.
This sacred mantra should be recited in the early morning after taking a bath or in the Sandhya Kala, i.e., evening. It is advised to do it sitting in front of an idol or picture of Lord Sudarshana/Lord Vishnu.
You can recite it for 3, 9, 11 or 108 times as per your convenience. And any individual can chant this maha mantra; there are no barriers.
You could also offer sweet food items made with sesame or laddu, tamarind rice, etc.
Tulsi and Lotus flowers can be used as an offering.
Recite it facing the north and east direction.
While chanting the mantra, you can use the rosary beads made of tulsi, rudraksha, or clear quartz crystals.
This mantra can also be used in Shri Sudarshana Homa or Yajna. Homas are thousands of years old rituals in which the mantra is recited over the burning fire which is the Yajna. They usually have elaborate setups with other routines. There are hundreds of homas for different purposes, and Sudarshana homa is one of the powerful ones.
Chanting of this mantra over a fire ritual or homa is a Vedic custom which accesses Lord Vishnu's spiritual weapon, the Sudarshan chakra. The person on behalf of whom the homa is performed should be physically present in the homa or japa.
It won't be possible for you to perform this homa every day, so you can also do it in the confines of your home. You can sit in front of a picture of Lord Vishnu, offer some flowers, burn a lamp and incense sticks. Take a glass of water and put a few tulsi leaves, cover the glass using the right-hand palm, recite the mantra and then the holy water can be given to people who need it.
If you cannot arrange much, then sit with a clear mind and chant the mantra daily. If you chant the maha mantra regularly with a pure heart, then you will definitely see results.
Who is Lord Sudarshana?
He is a manifestation of Lord Vishnu shown holding the Sudarshana Chakra in his rear right hand. In the other three sides, he holds a shank (conch), Gada (mace) and Padma (lotus). When Lord Vishnu is seen in his form holding the chakra, he is acknowledged as Lord Sudarshana. This form of him is rightly called as the 'Divine Vision'.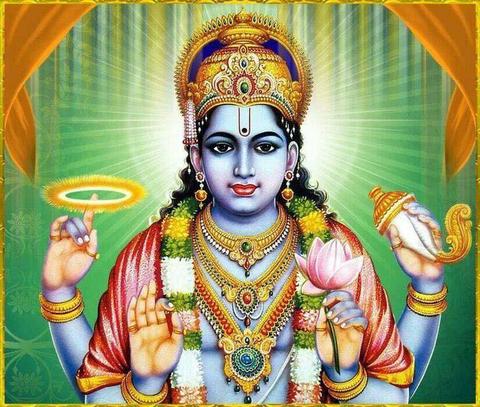 This weapon is of such significance that it is acknowledged as a deity itself. When you chant this powerful mantra, you are showering praise on the weapon by addressing it as a deity named Sudarshana. You hail the powers that it unfolds and invoke the power of Lord Vishnu or Narayana. This powerful mantra helps to harness the auspicious qualities of the Sudarshana chakra which is one of the most feared and dreaded weapons in the universe.
Significance of the Sudarshana Chakra
It is the holy weapon of Lord Vishnu. This chakra has 108 serrated blades or edges. These blades lookout for evil and destroy them. Out of all his weapons, this is the most significant and powerful one. The sharp edges can severe anything in the Universe. The disc gives out immense heat as it is also an aspect of Agni who is the Lord of Fire.
The typical image of Sudarshana chakra contains a circular ring where he is shown with Sixteen hands. Around the circle are found flames of fire as a representation of the Sun God. On the other side, there is an image of Lord Narasimha.
This ring represents the destruction of all evil forces and imparts victory of good over evil. When hurled at an enemy, this chakra slices through the air like a disc with blazing fire with a tremendous amount of power. It is known that the chakra can search for its enemy in all the four directions. So, this weapon is also considered as the protector of Dharma and justice among humanity.
In the Nrisimha Upanishads, there is narration as to how Lord Vishnu obtained this powerful weapon of destruction. Once when demons began to overthrow the Gods, so the gods went to Lord Vishnu and asked for his help. Vishnu wanted to have a mighty weapon to defeat the demons. So, he started praying to Lord Shiva and decided to offer one thousand lotus flowers and chanting the Shiva Mantras. Vishnu noticed that one of the lotus flowers were missing so he offered to give his own eyes to replace the missing lotus so that he could complete his prayer ritual.
Lord Shiva was so impressed by his exceptional devotion that he granted Vishnu a weapon of his choice. Lord Vishnu asked for the Sudarshan Chakra so that he could fight with the demons. Shiva fulfilled his wish and gifted him the most potent weapon in the universe.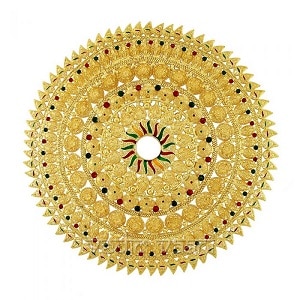 It is written in the Puranas that the heavens architect Vishwakarma made the Sudarshan Chakra from shreds of fire of the sun. Vishwakarma's daughter was married to Lord Surya- the sun god. Due to his intense heat, she could not be with him, so she complained to her father.
To please his daughter, Vishwakarma shaved off the edges of the Sun to make it shine less. The leftover 'sun dust' was used to create three powerful celestial objects. The first one was the aerial vehicle called the Pushpaka Vimana, the second being the Trishul- the Trident. And the third one was the Sudarshana Chakra.
That is why the chakra is considered to be a blazing disc having all the power of the sun. It is a portable instrument and the most powerful among all of Vishnu's weapons. Its presence also implies that Lord Vishnu is the keeper or owner of celestial bodies in the three lokhas (heaven, hell and earth).
You can also get the qualities of this weapon such as courage and fearlessness by praying to him. The ultimate reason for worshipping this chakra is to refine your perception and vision by achieving an enormous amount of spiritual maturity.
Benefits of the Sudarshana Maha Mantra
Chanting of this mantra will give you immense benefits that will bring peace into your lives. When you recite this mantra, you pray to Sudarshana to bless you immensely with good luck, health and spiritual well being.
This mantra has the power to remove all curses or doshas and will provide a shield over you and your family.
We can block all evil influences that prevent good things from happening in our lives.
It is also beneficial for pregnant women who will be thinking of Lord Sudarshana during their pregnancy and get blessings for the unborn child.
It will give you courage, fearlessness, confidence and victory over your enemies.
You will also be relieved from unknown or unexplained worries that may hinder your progress.
It will remove any obstacles that you may face in your path to spirituality. Your connection with the Lord gets strengthened.
On regular chanting of this mantra, it will cure you of any unidentified disease whether it is mental or physical. It will give you a healthy mind and body.
It will bless you with wealth, health and prosperity.
If you are suffering from any disease and you chant this mantra regularly, then you will see tremendous improvements in your health. It will also keep you more energetic.
Since it is very powerful, it is also used to ward off bad energy, ghosts and evil entities. It can be used in the exorcism of demons and evil spirits.
It will bless you with success and abundance; it will help you to achieve your dreams.
You can use this maha-mantra to remove darkness from the mind. It will lead you to self-purification and mental rejuvenation.
It is essential for Karya siddhi. Any work that you set your mind to do will be a success if you religiously chant this mantra.
If you have been dealing with any kind of legal disputes in the court regarding property, money or land, this mantra will help you to ease your problems in these issues. Any pending cases or litigation will be dissolved.
Or if you have been going through financial issues regarding loans, credit card or you can't find a good job, and then this mantra will lead you to an excellent financial status or a good job. It is beneficial even for entrepreneurs as they can earn more profits or get success in new ventures. It also helps in career advancements.
Final Thoughts
In today's fast-paced world, this mantra can give you spiritual access with your inner self. Chanting this mantra will help you to develop your personality so that you attain Karya siddhi in any venture or activity. He will bless you and your family with health, wealth and prosperity.
Please keep in mind that Whenever you recite the mantra, do it with a clear mind and soul. If you hold grudges, ill feelings or greed in your heart then you won't be able to feel the connection and reap the benefits.