The Bhadrakali Mantra is an amazing life-saving Chant or Mantra that will help a person cast out great evils from one's life. It is a powerful and mystical Chant given by the Goddess to help her Children and devotees who are accosted by the evil forces which also includes black magic.
A Free Printable Puja Guide to help you chant Bhadrakali Mantra
I'm so proud of this puja guide, so I couldn't be more excited to share it with you today!
As you may know by now, I like to write long and helpful posts for my readers. Sometimes, however, I get an idea to do something more, something even more useful.
That's why I decided to prepare something that people could have in hand while reciting mantras. Something printable, easy to read, and that could act as a puja guide.
That's how these guides were born.
Each guide has a big picture of a divinity that you need to devote to, a mantra, and a how-to guide to help you prepare yourself for reciting. It's in A4 format, and all you need to do is to print it.
This Bhadrakali Mantra puja guide is completely free; all you need to do is to enter your email in the box below to unlock it.
[emaillocker]
Just click on one or all of the links below and the free PDF file will download immediately!
Bhadrakali Mantra Puja Guide – Click Here to Get It
[/emaillocker]
Who is the Goddess Bhadrakali?
Goddess worship is also a prominent and important part of Hinduism. The Goddess Shakti or Durga is seen as a Motherly Goddess. Her name literally means Power.
She is often described and depicted as a fierce, bloodthirsty being with several hands that hold weapons and the body-less heads of asuras or demons. It is said in one of her lore that she emerged from the third eye of the god Shiva in order to destroy a Demon who was granted a boon by Shiva himself.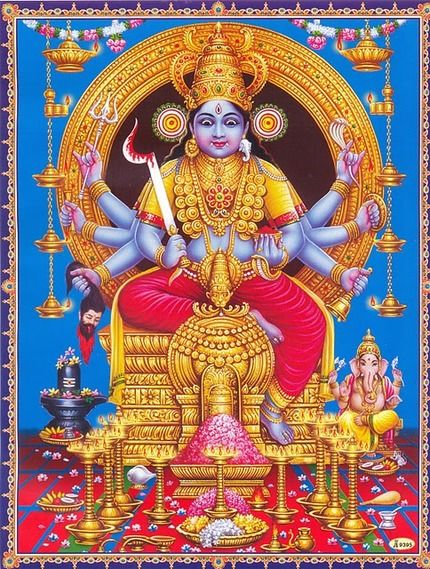 The Goddess has many different avatars. She was reborn several times in order to provide for her People's needs. In each form, a side of the great goddess is revealed.
Goddess Bhadrakali is one of her many forms. The prominent characteristic displayed in her Bhadrakali form was the ability, power and viciousness to destroy evil demons and their influences
Goddess Worship is most prominent in the southern Regions of India. There the Goddess is revered in all her forms.
When goddess maha Bhadrakali is worshipped, her power flows to the earth and to her people to use it vanquish evils or crush enemies. This is where the Chant comes in. The Bhadrakali mantra or chant-like any other chant in Hinduism is believed to create access to the powers of the great goddess through the sounds and vibrations produced during the chant.
The Goddess is seen as an auspicious sign for black magic, and so her chant, i.e. her mantra is used to start off any session involving the casting or removal of a curse.
What is Bhadrakali Mantra?
The Bhadrakali Mantra is a powerful chant that can help a person in a bad situation. It is a Chant that is a prayer to the Goddess Maha (Great) Bhadrakali.
The Bhadrakali Mantra can remove the effects of dark evil spells from your life cast by your enemies and also the effects of burinazar (the effects of a curse due to the jealousy of others). Sometimes life just does not go your way and you know it is not for lack of trying, then, you should try using the Bhadrakali mantra.
However, this chant also has its limits, and the only thing that limits the power of this chant is lack of knowledge. For example, how many times you need to recite it is dependent on your situation and the number of evil forces and influences in your life.
In order to avail the full benefits of this mantra, one must recite the chant several times over a period. This may be every day for a month or a year. It depends on your situation. When you form a habit of it may bring you closer to the greater powers of this universe.
People seek spiritual enlightenment and, in this day, and age of science this world is filled with skeptics. To find spiritual enlightenment, one must be willing to believe, and it is not very hard. At the very least you will be swayed by the powers of goddess Bhadrakali.
If you have come to seek direction, then this will definitely be of help to you. The Cosmic powers of the great ones are everywhere. Life itself is a great miracle. If you think about the intricacies of living organisms, you will see intelligent design.
I think we can agree that one or two kinds of living organism can be a coincidence but not millions.
How to Chant Bhadrakali Mantra?
The Chant itself is simple and short and goes like this "Om Shree Bhaadrakali Namah". However, there are some necessary rules that you will need to follow in order to chant it correctly.
So here I give some simple and necessary points before you do the puja.
Always bath or wash your hands and feet before chanting.
Wearing white with some dark blue (close to purple) garments shows our absolute devotion to the goddess.

A color similar to this one.

Make sure you always face east while chanting the Bharda Kali mantra.
You have to look at a picture of Goddess Bhadrakali or look up at the sun in the sky and when chanting.
In order to sense the positivity of the universe, you must devote yourself to Bhadrakali. You may do this by doing the simple task of reciting the Chant every day at least for 48 days for results.
Chant the mantras 9, 27, 54, 108, or 1,008 times on the rudraksha beads (neklace) every day according to the magnitude of your desires.
Let thoughts pass you by, do not dwell on the past or future; concentrate on your mantra; and count the repetitions.
If you aren't experienced with performing pujas, I suggest that you ask for some professional help.
Bhadrakali Mantra meaning in English
I will break it down and explain the significance of each word and synergy of the chant together.
The Meaning of Om
The First Word is "Om" or "Aum", and this word is considered sacred in Hinduism. The word is said to be sacred because, in Hindu mythology, this word was what started the creation of the world as we know it. The sounds or vibrations produced while chanting this word attunes you to the universe because it is said that the vibrations produced during the chant of this word is the same or at the very least related to the sounds that were produced originally when the universe was formed.
The word "Om" is also referred to as "Pranava" which is derived from a similar word, i.e. "Prana". "Prana" means the breath of life and the word is used to describe breath and life which in ancient India was considered to be the same thing. This is true because all living things breath. Even the fishes in the water and the plants of the earth breath, albeit in different ways.
When one chants the word "Om" during the puja, it can help achieve a deeper level of puja and can have profound effects on your body and soul. A deeper level of self-awareness can be achieved as you chant the word "Om" ushering you to a state where you are in tune with the sound of the universe.
The Meaning of Shree
The Word "Shree" is seen as an auspicious name. It is connected to the goddess Laxmi. Anything to do with the goddess Laxmi is usually something related to luck and wealth.
This word also has significant meaning in Indian astrology and numerology. Often Children whose names start with S or children named Shree are creative and hardworking. An attractive outlook is often desired by these people.
They value outer appearances and are often attractive themselves. They also have a very pragmatic approach to problem solving and life in general. They love and value independence and often when a problem arises, try to seek a solution by themselves and hesitate to seek it from a third party.
The Chanting of this word brings the Bhadrakali mantra the element of good luck and success.
The symbolism in these factors is hardly subtle. One can easily see that chanting of the word "Shree" brings in the required energy for success as it has relations with luck, stars, wealth and happiness which all points to the same direction, i.e. success.
The Meaning of Bhadrakali
As explained previously, Bhadrakali is the name of the Goddess. She is a powerful force of destruction who was created primarily for the destruction of evil. She is also one of the many forms of goddess Shakti.
The goddess maha Bhadrakali has at least three traditional stories of origin. Out of the three, the first one is about her origin lore that says she was formed from goddess Mahatmyam. This lore is told among the believers of Shaktism. The second Story has to do with King Daksha and is related and told among the followers of Shivaism. The third story is just as famous, and it is said that she was the daughter of the god Shiva.
The one common thing that binds all the stories together is her powerful evil destroying trait.
She brings the aspect of power to the Mantra or chant. In Tantra or witchcraft and many practices, customs and lore, names have power. Hence, by chanting the name of the goddess Bhadrakali, you manifest her power in order to destroy the obstacle in your life. This can be translated into not only removing a curse on you and your loved ones but also to aid in the destruction on your enemies.
The Meaning of Namah
The word "Namah" is used at the end of many Chants or mantras in Hinduism. You can also see this in the practice of Traditional Yoga.
"Namah" literally translated means bow. It is a word used to signify surrender and dependence on higher powers. The word "Namaha" in Sanskrit means 'not me'. By chanting this word, you admit to yourself and put it out into the world that you are a part of the universe and it is not all about you.
There is much to be said about being selfless. It brings you a higher level of understanding and helps you become an overall better person.
This Word ushers in the aspect of being a person who is well in tune with the universe and a vessel of cosmic energy. By chanting "Namah", your whole being gets elevated a little higher than before. What this does is that as a vessel who is more enlightened as your chanting progresses, you may hold and use more cosmic energy.
7 Amazing Benefits of Bhadrakali Mantra
I am sure I have convinced or t the very least swayed you to see the power or the workings of thismantra. I am going to highlight some of the main benefits, so here they are.
Love: This mantra is known for its power to help one find love by eliminating obstacles. Said obstacles might be a person or situation or even a character in you.
Financial growth: This mantra may also bring you more money also by removing obstacles. The goddess Bhadrakali is also known as a goddess who represents destruction for the purpose of rebirth.
Luck: Often unknown rogue factors that we have no control over destroys or delays and obstructs our growth. The mantra helps in destroying these factors in order to help make space for better fortune or the correct fortune that you deserve and work for.
Cleansing of Aura: As you chant the mantra the goddess' power will clean your soul-destroying the aspects of you that hinders you. It does this by bringing forward the change that you will require for purification.

Victory over Evil: As the main purpose of the goddess' creation was to destroy evil, when you chant it manifests her powers that destroyed evil and will help you similarly gain victory over evils both great and small, inside and out.

Contentment: Finding contentment is very important to us. We talk about job satisfaction, good familial relationships, etc. All these are achievable with the usage of the Bhadra Kali mantra which will help usher in the changes required to achieve that state of contentment.
Desirable results: The chant can also help you achieve desirable results. During times of testing the Chant will help temper you so you can achieve said goals.
Final Thoughts
The Bhadrakali mantra will usher in times of victory and tempering of self. This will ultimately help achieve the kind of life you desire and more importantly prepare you to be able to handle that success.