It's been said, "all of those who wander aren't lost". And sometimes in wandering, we find just what we're looking for. A wandering spirit represents freedom, adventure, spiritual seeking, healing, teaching, and any number of things – as you'll see with this list of names that mean wandering spirit.
Let's take a look at the list!
Boys Names That Mean Wandering Spirit
Below is a list of boy's name that mean wandering spirit.
Cain

Cain of Biblical fame was a "wanderer" after becoming exiled. The ancient Hebrew name Cain represents a name that means wandering spirit.

In the Biblical story found in the book of Genesis, Cain is the jealous brother of Abel, who he murdered out of Jealousy. A shepherd and a farmer, they were the first two sons of Adam and Eve. After the murder of his brother, Cain was punished by God and sent to wander for eternity.

In recent times, Cain has become a popular Irish boy's name.

Christopher

St. Christopher is known as the "patron saint of travelers". The name itself is Greek in origin and means "carrier of Christ". St. Christopher is said to have carried the baby Christ across a river.

Nowadays the name Christopher can be found all over the world. It's a popular American boy's name and is often shortened to "Chris".

Doran

Doran is a name of Gaelic origin which began as a surname but in modern times is used as a first name. Doran is derived from "O Deorain" which means "descendant of Deoradhan" – further meaning "wanderer", or "exiled".

Doran is a popular Irish name. Doran can be found in the United States and was at its most popular in the early 1900s.

Dwade

Dwade is an English name that means "dark traveler". It's thought that the name Dwade originated as a blend of the two names Dwayne and Wade. There is some speculation that the name could have originated in the United States as well.

Farold / Faer / Faerwald

Farold is an English name that means "mighty voyager" or "powerful traveler". Historically, Farold was not only used as a surname but as a popular first name too. Nowadays, it's a hard first name to find. It could be time for the mighty Farold to wander its way back.

Ferdinand

The name Ferdinand is German in origin but has also been used historically as a Spanish and Italian name. Ferdinand means "journey" and has been the name of an overwhelming amount of powerful rulers and kings throughout history.

Igashu

A Native American boy's name that means "wandering spirit", "wanderer", or "seeker".

Jal

Jal is a unique name that has a ring to it. The English name could mean "wandering spirit", but simply Jal means "traveler".

Jeffrey / Geoffrey

The name Jeffrey has a lot of variants, including Jeff and Geoff. The English name Jeffrey also has more than one meaning, one of which is "traveler". Jeff is a popular name in modern times and the list of notable people with the name Jeff or Jeffrey is endless, but includes actors Jeff Bridges and Jeff Goldblum.

Kymani

Kymani is a popular boy's name of East African origins. The name Kymani means "adventurous traveler". It's gained popularity in the United States as well, landing in the top 1000 boy's name every year since 2008. Kymani is the name of one of the late singer Bob Marley's sons.

Nestor

Nestor a Greek name which means "homecoming", "traveler", and "voyager". The name Nestor is made famous from Greek mythology, wherein Homer's "Iliad", Nestor is the son of Nelus and the king of Pylos and Chloirs. In Greek mythology, Nestor was known for his wisdom and longevity.

Noah

One of the meanings of the Hebrew name Noah is "wandering". In the Bible's Old Testament, Noah was the builder of the Ark that carried 2 of each animal during the Great Flood.

Noah has been a popular Christian name since the Protestant Reformation. It remains popular in the United States and other English speaking countries and throughout Europe.

Peregrine / Perry

Peregrine, or Perry for short, is a name of Latin origin that means "traveler" or "pilgrim". While Peregrine, while certainly distinguished, has taken the back seat in modern times to its shortened form of Perry.

Polo

Polo might be best known as a horseback game or Ralph Lauren's clothing line. Polo is also a first name of Tibetan origins that means "brave wanderer".

Romer

"One who romes" – The name Romer is of German roots and also means "pilgrim" and "fame".

Rover

Rover is a popular dog's name, a space shuttle, and an awesome line of luxury SUVs, but the name Rover is also a boy's first name (and a pretty cool one at that) of English roots. It's meaning is "traveler" or "wanderer".

Scott

Scott is a name with Gaelic origins. In Scotland, the name Scott means "wanderer". It's a name popularized by NBA Champion and all-star, Scottie Pippen and Mr. Charles in Charge himself, Scott Baio

Stian

Stian is the modern take on the Old Norse name "Stigandr" and means "wanderer".

Stig

You have to admit, Stig just sounds cool. It's a Scandanavian name that means "wanderer". Stig is another variation of the Old Norse name "Stigandr".

Tarka

Tarka is a literary name that could mean "wandering spirit". The name Tarka was made famous by Henry Williamson's 1927 novel, "Tarka the Otter" and the name means "wandering like water".

Tripp

Just like it sounds, Tripp is an English name that means "journey", or "short journey". In old England, the name Tripp was also used to signify occupation, usually of someone who was a dancer. In old Germany and France, it was a name given to butchers. The name Tripp is used as a name given to the third-born child, short for "triple".

Wendell

Of German origin, Wendell is a boy's name that means "wanderer", also "traveler" or "seeker". Wendell was a popular name in the United States during the mid-century, having peaked in the 1940s. Today Wendell is the 4,343rd most popular boy's name in the United States.
Feel free to share this article on Pinterest!
[bg_collapse view="button-red" color="#fff" icon="arrow" expand_text="A Picture for Pinterest" collapse_text="Show Less" ]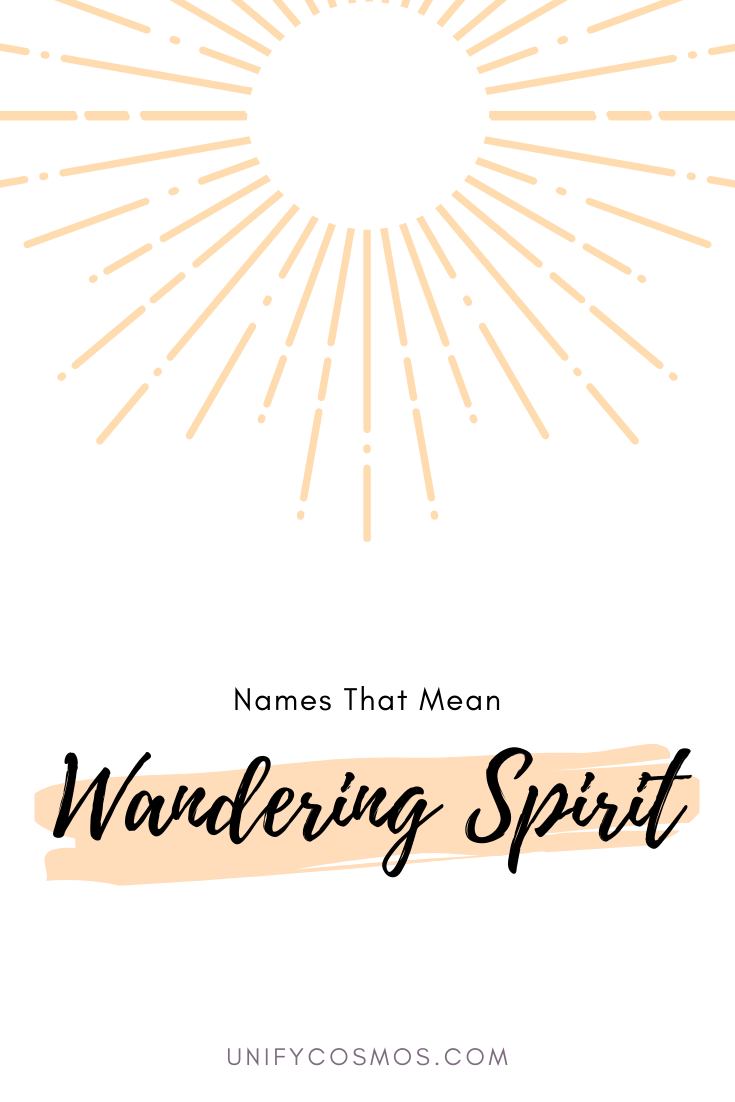 [/bg_collapse]
Girls Names That Mean Wandering Spirit
The following a list of girl's names that mean wandering spirit.
Alma

Alma has Latin roots and is a popular Celtic name. Out of its many meanings, one is "independent spirit". It was a popular name in the United States in the early to mid-1900s.

Barbara / Barbi / Barbie / Babs

Greek in origin and derived from the word "barbaros", the name Barbara means "traveler from a foreign land" but also "wanderer. Notable women with the name Barabara include American news anchor Barabara Walters, singer Barbara Streisand, and first lady Barabara Bush.

Beatrice / Beatrix / Beatriz

Beatrice is an Italian name meaning "voyager", derived from its Latin for Beatrix. In Spanish, the variant is Beatriz. The name Beatrice is currently gaining momentum in the United Kingdom and is the 573rd most popular name for baby girl's born in the United States in 2018.

Bice

Bice is an Italian girl's name that came from Beatrice. The name Bice means "voyager" or "traveler".

Fara / Farah / Farrah

Fara is an English name that means "travel". The name Farrah was made most recognizable by late actress Farrah Fawcett. Farah is also a name of Middle Eastern origin, where it means "happiness" "joy".

Fernanda

Fernanda is a name meaning wandering spirit. It's a Spanish, Portuguese, and Italian name and a variant of the masculine name Ferdinand, meaning "journey" or "adventurous, bold journey".

Gitana

Gitana is a Spanish name that means "wanderer" or "gypsy". It's not a very popular name today, but it still survives. It's estimated that around 3,800 people worldwide currently bare the name Gitana.

Saira

The name Saira is of Hebrew roots and means "traveler", derived from the name "Sarah". Saira is a common name in India as well.

Somerild

Somerild is Scandanavian and means "summer traveler". Somerild is also a popular girl's name in England.

Wanda

Made recognizable by the 1980s movie, "A Fish Called Wanda", and modern-day American comedian Wanda Sykes – the meaning of the German name Wanda isn't too far off from how it sounds, "wanderer". Wanda is a popular Polish name and peaked in the United States in 1934 when it was the 47th most popular girl's name.
Final Thoughts
If you've been traveling around looking for the coolest names that mean wandering spirit, then wander no further. If you have a name that means wandering spirit and have been seeking out its meaning, then voyage no more.
This is one of the biggest lists compiled of names from across cultures and throughout history.
Don't miss a list of names that mean the strong spirit.