If your name is Rachel then you may already know of the names powerful Biblical significance. It was the name of one of the arch-mothers to Isreal and Jacob's wife and a name that's deep in Christian and Jewish tradition. The spiritual meaning of the name Rachel from its Biblical roots, plus favorable numerology aspects suggests that it's a name for those spiritual and free-spirited.
Let's continue.
Spiritual Meaning of the Name Rachel and Origins
Rachel is a Biblical name that goes back to the Old Testament. It's derived from the Ancient Hebrew name "Rahel", meaning "ewe", "lamb", or "sheep". This may not seem very flattering at first. But in Biblical times it certainly was. It symbolizes a special, rare ewe. This was a highly positive meaning.
But it was the way she was portrayed in the Bible that really made her such a powerful figure. In the Bible, Rachel is known as one of four arch-mothers to Isreal.
She is Jacob's second and favorite wife. Rachel was the daughter of Laban, the man who Jacob made an agreed to work 6 years for in return for his daughter's hand in marriage.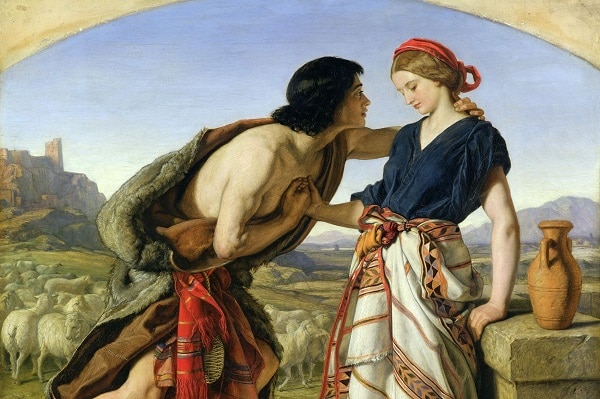 The ancient Hebrew name of Rachel was known as primarily a Jewish name for most of history. It wasn't until after the Reformation that Christians began taking it on. It was even in the top 10 girls' names of the 1970s in the US.
Characteristics of the Name Rachel
The name Rachel suggests that you are honest and take your responsibility seriously. You are genuine, authentic, and grounded, a trait that many people admire about you. Sometimes this can be difficult for Rachel to see herself, as the name can point to self-confidence issues and struggling with doubt. Chances are that others see your abilities more often than you do.
Rachel can be serious at times, but that's just because she's responsible. Others can sometimes see this as stubbornness. You value security and comfort. Chances are that family is the most important part of Rachel's life. Rachel's are well-groomed for humanitarian careers. Anytime you can help others you are happy.
You are diplomatic and fair and generally good at dealing with others. You are also patient, compassionate, and understanding. This makes you fit for dealing with others and the public at large.
The Name Rachel Letter Analysis
R: It's hard for you to make a decision without weighing all the options heavily first. This can sometimes lead to hesitation.
A: You have a sharp analytical mind and you have a unique way of looking at the world that most others can't see.
C: You are emotional and artistic.
H: You take pleasure in the simple things. Ordinary, every day things seem to put a smile on your face.
E: Your emotions can be complicated at times, difficult for both you and others to understand.
L: You are talented in the arts and entertainment.
Feel free to share this article on Pinterest!
[bg_collapse view="button-red" color="#fff" icon="arrow" expand_text="A Picture for Pinterest" collapse_text="Show Less" ]
[/bg_collapse]
The Name Rachel in Numerology
Rachel has an expression number 11
11 is a highly spiritual and intuitive number. It's a Master Number in numerology, which says that Rachel will have more potential in spiritual areas than others.
Rachel's tend to be dreamers and drawn to the mystical side of things. The number deals with enlightenment and illumination. Chances are that Rachel will be drawn to spiritual or otherworldly pursuits.
An expression number 11 grants Rachel good health. But if she doesn't take care of herself she can be prone to kidney and bladder problems. This number makes Rachel powerfully charismatic but also sensitive.
Rachel has a soul urge number 6
Number 6 soul urge numbers are friendly and personable. Rachel will feel the need to be wanted and accepted above all else. This makes Rachel a generally warm, open, and friendly person who is easy to get along with and talk to. You will find your work best suited in group efforts where you are appreciated or in helping professions.
Rachel has a personality number 5
Personality number 5's are offbeat, creative, and free-spirited. This number makes Rachel energetic, happy, and outgoing. People will most likely be drawn to you because of your fun nature and original style and way of doing things.
Personality number 5's are actresses, singers, and other entertainers. Rachel's will best be suited for careers in the limelight or in making others feel good in some special way that only they can thank their natural gifts.
The Name Rachel in Modern Day
The popularity of the name Rachel seems to be increasing. It's been going up yearly and is now the 307th most popular girls' name in the united states. In the 1970s, Rachel was in the top 10 of girls' names. It's good to see the name rise in the ranks once again, possibly due to the powerful spiritual meaning of the name Rachel.
Click here to learn more about the spiritual meaning of other names.