The Vakratunda Mahakaya Mantra is a prayer that is offered to the Hindu God, Lord Ganesha. The mantra professes absolute devotion and undying gratitude to the God. Besides that, the mantra also requests for freedom from all obstacles while asking for wealth, prosperity and wisdom.
But before we try and understand what the mantra means, I thought it would be helpful to have some basic idea about it. You must have heard about people chanting mantras to help cope with life. And when I say life, it could mean anything from looking for a new job to simply seeking for happiness. The simple fact is, mantras are therapy to the soul.
It is the act of chanting a specific line or lines which will harbor good energy towards the center of your mind and soul. If it is a change that you are seeking in your life, you must look for it within yourself instead of the surroundings. And mantras help do just that, it helps with meditation while helping your heart to unlock secrets.
Mantras are also known to help with resolve and enlightenment within oneself as Gandhi famously said, "You must be the change you want to see in the world". Gandhi himself lived by the Rama Nama Mantra which freed him from the fear of death. That is evident from the history of India and as the world knows him, a fearless man fighting for justice and truth. He lived and died by that mantra as his last words before he breathed his last were "Hey Ram".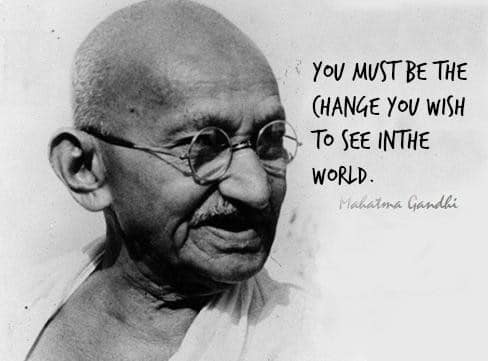 Returning to our original topic, the Vakratunda Mahakya Mantra is not only a prayer but it displays a deep portrayal of devotion to Lord Ganesha.
The mantra reads as:
"Vakratunda Mahaakaaya Surya Koti Samaprabha"
"Nirvighnam Kuru Me Deva sarva Karyesu Sarvada"
Which means:
"O Lord with the curved trunk and the one who has a huge body, the one whose radiance can only be compared with a crore suns"
"O Lord, I ask thee to please free my path from all obstacles"
As you can see, the mantra is simplistic and its beauty lies in its simplicity. The chanter's intention is clear and the request is straightforward. But before the speaker appeals to God for its request, the mantra starts with its appraisal for God.
It is also important to understand who Lord Ganesha is. Lord Ganesha has a lot of names, but he is mostly known by his Sanskrit name, 'Vighnaharta'. 'Vighna' translates to hurdles or obstacles for that matter and 'Harta' translates to remover. Therefore, he is also known as the 'Remover of Obstacles' and thus that becomes the center of the theme in the mantra.
There are also other names for Lord Ganesha, some of which are 'Vighneshrava' and 'Vighnesha'. These names also round to the same meaning as the 'Remover of Obstacles'.
Therefore, it is evident, that the mantra is centered on the meaning behind Lord Ganesha's name.
A Free Printable Puja Guide to help you chant Vakratunda Mahakaya Mantra
I'm so proud of this puja guide, so I couldn't be more excited to share it with you today!
As you may know by now, I like to write long and helpful posts for my readers. Sometimes, however, I get an idea to do something more, something even more useful.
That's why I decided to prepare something that people could have in hand while reciting mantras. Something printable, easy to read, and that could act as a puja guide.
That's how these guides were born.
Each guide has a big picture of a divinity that you need to devote to, a mantra, and a how-to guide to help you prepare yourself for reciting. It's in A4 format, and all you need to do is to print it.
This Vakratunda Mahakaya Mantra puja guide is completely free; all you need to do is to enter your email in the box below to unlock it.
[emaillocker]
Just click on one or all of the links below and the free PDF file will download immediately!
Vakratunda Mahakaya Mantra Puja Guide – Click Here to Get It
[/emaillocker]
Who Exactly is Lord Ganesha?
A good part of the population of the world is familiar with Lord Ganesha. The elephant-headed deity is hard to miss by all means. But Lord Ganesha is just more than its appearances.
Lord Ganesha's parents are Lord Shiva and Goddess Parvati. His siblings are Lord Kartikiya, Goddess Lakshmi and Goddess Parvati. With such esteemed parents and siblings, it is no wonder that Lord Ganesha is also a much revered deity in Hinduism.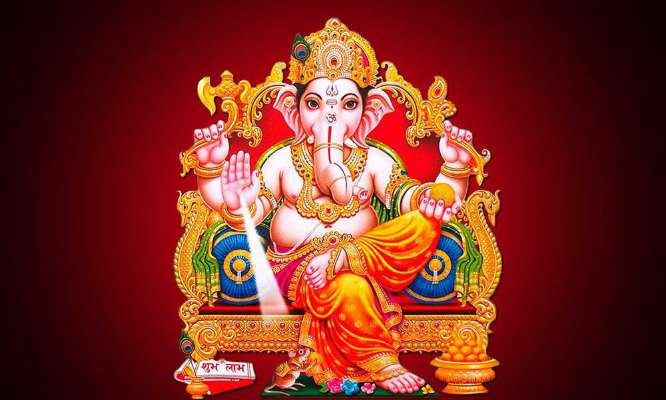 Lord Ganesha is popularly depicted with the head of an elephant with a round frame, particularly around the belly. Most commonly, he is portrayed with four arms, but this number can vary and he can have up to twelve arms. He is portrayed standing, dancing or even in a yoga pose.
Lord Ganesha is also seen holding some items. Most commonly a noose can be identified in his hand which is called pasha. This is to symbolize the fact that he carries devotees or worshippers to the truth. He also carries an axe to cut off the devotees from their worldly attachments. He is also known for his love of laddoo, which is a sweet snack. He can also be seen holding a laddoo which symbolizes the fact that he rewards his devotees for all their good deeds and spirituality.
For his mount, Lord Ganesha has a mouse which symbolizes humility. The reason behind that is to strike a romantic chord with his ability to remove all obstacles. And in the same time, it also represents his ability to control and manipulate all creatures and situations.
Lord Ganesha stands for three virtues namely Riddhi, Siddhi and Buddhi. Riddhi stands for Wisdom, Siddhi stands for Spirituality and Buddhi stands for Prosperity.
Besides the fact that Lord Ganesha is known as the "Remover of Obstacles", he is also known for placing obstacles. But this is only for those who needs a lesson in life or for those who need to trace their path to true virtue.
How To Chant Vakratunda Mahakaya Mantra
The correct way to chant the Vakratunda Mahakaya Mantra is to follow a ritual to prepare your mind and soul. The whole ordeal will consist of some steps while chanting: "Vakratunda Mahaakaaya Surya Koti Samaprabha", "Nirvighnam Kuru Me Deva sarva Karyesu Sarvada".
The reason it is called a mantra is that the sentence needs to be repeated over a series of times. The Vakratunda Mahakaya Mantra needs to be chanted for a number of times but this is not any number that we are talking about. If you are going to chant the mantra, you need to repeat it for 9, 27, 54, 108 or 1008 times.
The complete ritual for chanting the Vakratunda Mahakaya, also known as the Ganesh Mantra is discussed in the following steps below:
Step 1:
It is important to be physically clean because it not only makes you feel refreshed but it unburdens your mind as well. So you may take a bath or if you are not feeling up to it, you may wash your hands and feet before chanting.
Step 2:
Sit in a comfortable position facing the East or the North direction. Once you are seated, you may begin to chant. I suggest that you consider using a meditation cushion which will help you sit comfortably.
Step 3:
Ganesha is very fond of sweet treats, the color red, sweet smelling scents. So while you do the puja, wear white clothes with a few red pieces.
Step 4:
When chanting, it is important to concentrate on the words and immerse fully into it. Imagine the Lord and devote yourself to him. While doing so, try and feel the Universe inside you and let it fill you with positivity.
Step 5:
Make it a point to repeat the Ganesh mantra for the next 48 days with full devotion.
Step 6:
Do chant the mantra for 9, 27, 54, 208 or 1008 times with rudraksha neklace.
Vakratunda Mahakaya Mantra Meaning in English
The whole mantra has been broken down and has been translated in English for a better understanding.
Vakra means 'the one who is not straight' and Tunda means 'a curved trunk'. Mahakya is talking about the physical frame of Lord Ganesh and it specifically means 'a large body'. Surya means 'the sun' and Koti means 'crore'. Therefore, Suryakoti translates to 'a crore of suns'.
Samaprabha translates to 'the radiance' or 'the aura'. Nirvigham typically means 'free from obstacles' and Deva means 'God'.
So when somebody chants:
"Vakratunda Mahaakaaya Surya Koti Samaprabh"
"Nirvighnam Kuru Me Deva sarva Karyesu Sarvada"
In English it means:
"O Lord with the curved trunk and the one who has a huge body, the one whose radiance can only be compared with a crore suns"
"O Lord, I ask thee to please free my path from all obstacles"
9 Miraculous Vakratunda Mahakaya Benefits
So overall, the Ganesh Mantra is an embodiment of positivity that is aimed at bringing success and defeating obstacles in our lives. Besides those, the are other Vakratunda Mahakaya benefits.
Mentors say that when we start chanting the mantra, we start living by it. When words are spoken verbally, words have the power to turn the meanings into a reality.
Once we devote ourselves to the mantra, the positivity that stands behind the mantra will start to engulf us in reality. This positivity will start to take shape in our lives and help us practice it in reality.
Being a positive person takes one into a journey to success. This very positivity can also help us defeat the obstacles that life presents to us occasionally.
It helps you build focus:
Chanting the mantra on a regular basis helps your build concentration. As you do this on a daily basis, the concentration will help you build focus. You will observe that you are able to focus better and that procrastination will no longer be a menace.
It helps you learn humility:
As you build positivity in your life with the help of the mantra, it will also bring you humility as well. Chanting the mantra will help you to be more conscious of your actions around people. This will automatically bring a sense of humility in your life.
It helps in self-acceptance:
Self-acceptance is often a difficult thing to do. But once a person lets go of their shortcomings, self-acceptance becomes an easy thing to do.

Chanting the mantra helps us to look within our souls and helps us focus on our inner well being. When we focus on our inner self, it helps us boost our confidence as well and thus, helps us be more self-accepting.

It helps in conflicting resolution:
Chanting the mantra helps us to grow as a person as well. Since this mantra is not only a plea to Lord Ganesh, but it also helps us to see a reflection of ourselves. With constant reflection, it helps a person to mature mentally. This maturity helps a person conflict resolution between parties or between oneself and a second party.
It helps in the prioritization of goals:
A person without a focus or proper goals can find confuse their priorities with something else. Since chanting the mantra brings back focus, it can help a person understand the right goals. With a deep sense of studying oneself, prioritization of goals would no longer be a problem.
It helps a person invest in meaningful work:
With our daily life taking its tolls, sometimes we may be living just for the sake of living. Little do we know that life is not all about just earning and buying.

Life can begin to take meaning in doing meaningful work like giving to charity, helping somebody in need or adopting an orphaned pet. Chanting the mantra can help a person understand the true meaning of life which is investing in meaningful work.

It frees a person from anxiety:
Chanting the mantra will free a person's mind and soul. This will help a person unburden the heavy thoughts that run in the back of the mind. When the mind is free from burdening thoughts, it will ease the soul. This will definitely free the person from all anxiety.
It helps a person appreciate the people:
Chanting the mantra sheds a person from all arrogance and pride. This makes a person more empathetic towards others. Being empathetic for people makes a person more accepting of people with their flaws. This act makes it possible for a person to appreciate the other person despite their weaknesses.
It makes a person open to learning:
Chanting the mantra opens up the mind of a person. This helps a great deal in making a person hungry for knowledge and wisdom. In this case, a person may look for sources to read and learn.

This opens up a journey of learning which will never stop and one which will get more interesting as the journey progresses.
Vakratunda Mahakaya Mantra on Youtube:
You can watch an amazing video which will show you how to chant Vakratunda Mahakaya Mantra below:
[embedyt] https://www.youtube.com/watch?v=qf3EdXE0c1c[/embedyt]
(Vakratunda Mahakaya Mantra Youtube Guide)
Final Thoughts
The Vakratunda Mahakaya Mantra not only brings a person success and the ability to defeat obstacles, but it also disciplines the person. The enlightenment brings a person with every chant makes a person look deep down one's soul.
With every reflection, a person becomes more wary which affects the life of a person in a positive manner.